Hello,
You are here, because you are getting one of my tops. We will need your measurements to make it and we will need you to take photos of those measurements taken. A full detailed guide follows below. 
You will need these things to make this happen: a tailors measuring tape. A cloth elastic band. A pair of helping hands.  About one good hour to get everything and some patience and effort towards accurate results, especially with photos you need to take. 
Here's how we want them:  
First, copy this measurements list and be ready to fill it in. We'll want you to just copy and paste it back into our conversation window (or notes to seller, if you are doing this prior to the purchase). Please don't send us any other format of measurements (and please don't create Google docs), don't change order of measurements, do not delete our little abbreviations that make no sense - they are for us - we truly just want this list in particular, copied and pasted back to us in one block, in the conversation window we communicate through. We much prefer centimeters as that's what we work in, but if inches is the only option, then please provide them like the following example: 5 1/4 in or even better 5.25 in  - I can copy paste this into Google and get quick results in metric.
Overbust circumference VP: 
Bust circumference P:
Underbust circumference PP:
Waist circumference L:
Hip bone circumference KLK:
Hips circumference KL:
Shoulder width Petys:
Nape to waist LI:
Back width NP: 
Shoulder to bust point Petys-SP: 
Bust point to bust point SP:
Shoulder to waist via bust point Petys-SP-L: 
Armhole circumference RS:
Full height U:
If your top has built in cups (Una, Estelle, Heather, Vivian, Nora, Nayeli, Dahlia, Grace, Gilda), we also need:
Bra cup measurement: 
If your top is a bodysuit, we also need these:
Crotch depth KG:
Crotch length KI: 
If your top has sleeves, we also need these:
Upper arm circumference BC:
Sleeve length RI:
End of sleeve circumference RPA:
And only if your top is Una, we will also need:
Shoulders circumference: 
For measuring process - either wear form-fitting garments or just underwear. It is very important to wear a good bra when taking measurements, especially for a top that's meant to replace it (if it won't require you to wear a bra on the day, like Nora, Nayeli, Estelle, etc). Next up, find your natural waist and mark it - ideally with cloth elastic, something thin enough to not add bulk or slip and slide around. It is very important that it's level. If you stand sideways, check that the front isn't going downwards and sits at the same spot as in the back. Correctly spotted and marked waistline image below:
And then you can start measuring and getting photos taken. Here's some insight on how. Have your friend help you and type or write down each of the results, and then you hold the tape for a few seconds or so there while they take that good photo. Things that are important for those photos:
Angle. None, please, not from the top, not from the bottom, just straight forward like the examples below.
Tape readibility. The focus is to be on the number of the tape and not on the body, garments or surroundings.
Distance. Close ups are unfortunately not helpful at all, when taking the nape to waist photo, the only valuable photo is where we can see where it starts and ends, and same for everything else really, we definitely have no use for zoomed in "result". These photos are meant to minimize the changes for serious alterations to give us a better idea of your body and shape and to spot any measuring errors. They are definitely very common and photos help. However, distance, angles, too loose or too tight tape (or simply losing some weight) can still mean you need some post production alterations, however, those are definitely expected to be minor and easily done by any local tailor. This process has been proven to help so much, thus totally worth the extra effort. 
Here are two examples of the photos we want in regards of distance, angle and tape readability. The person here is holding the tape herself and someone else is taking the photo. There are also the most crucial ones to get photographed right: nape to waist and shoulder to waist via bust point - they tell us more than you can probably imagine :) 
To send me the photos, the ideal way is to add them to Google drive album (but not creating a Google doc, just an album with photos, please) and sending me a link to that album via Etsy conversations. If for any reason that is not an option for you, then you may add them to Etsy conversations, three images per message.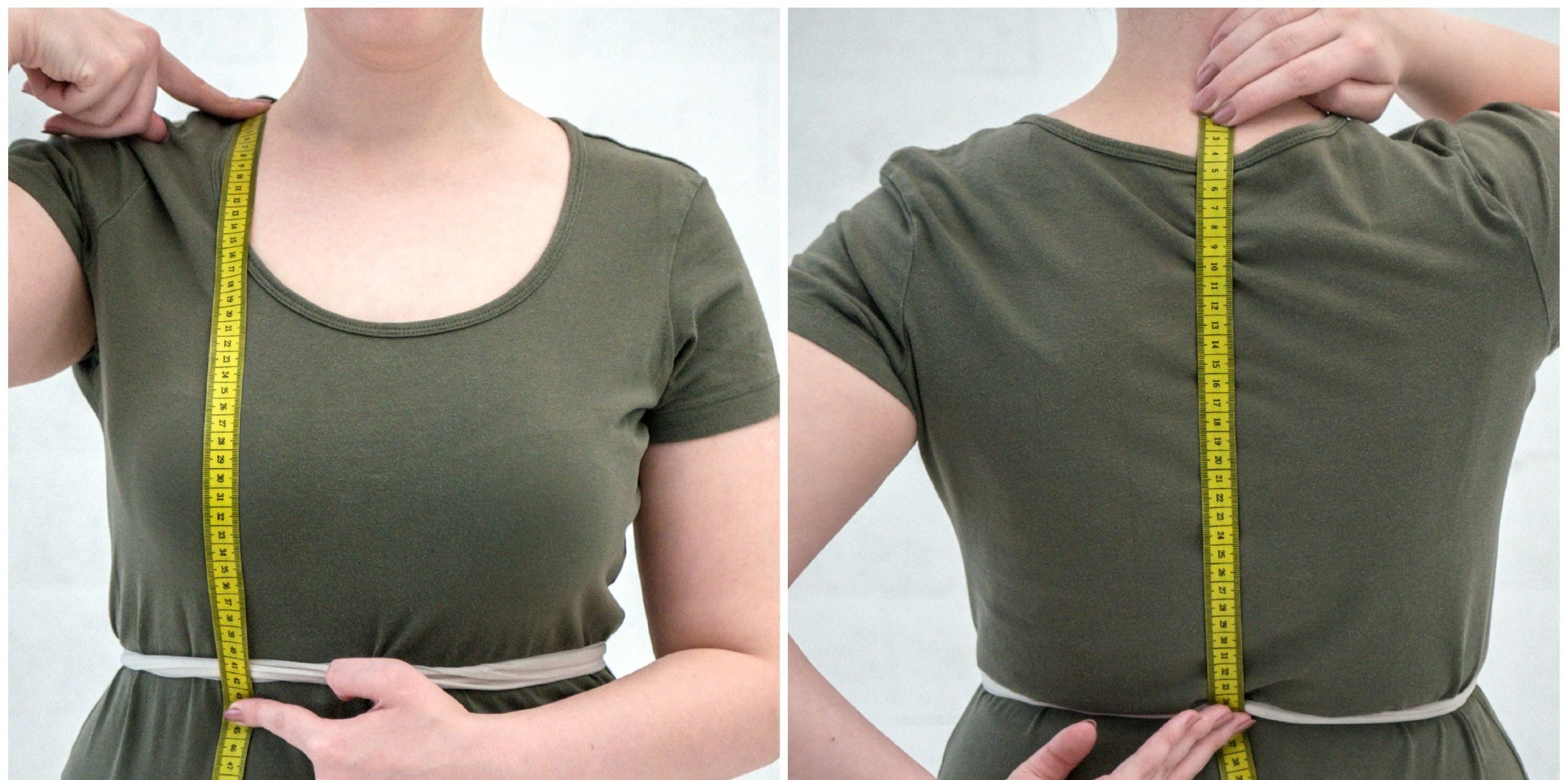 Now we've given all the instruction on how we want the list and photos, so let's go from the top! Here's how to take:
Overbust circumference: go through the top of the armpits, this measurement naturally comes out angled - lower in the back than front and this is correct and the way it should be.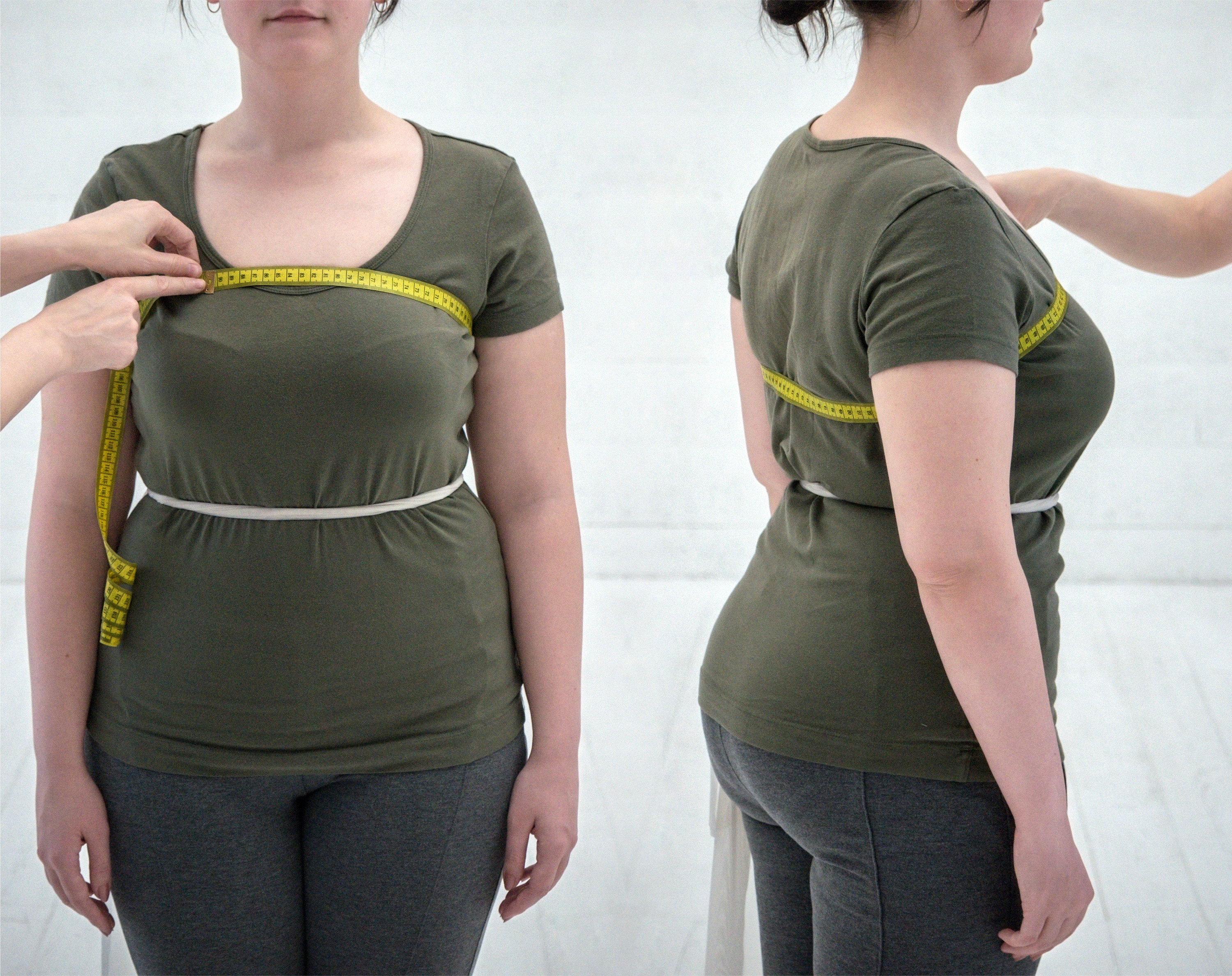 Bust circumference: this one should be level, front and back, and it should go through the bust points in the front (that's the most protruding part of the bust, commonly, but not always - the nipples).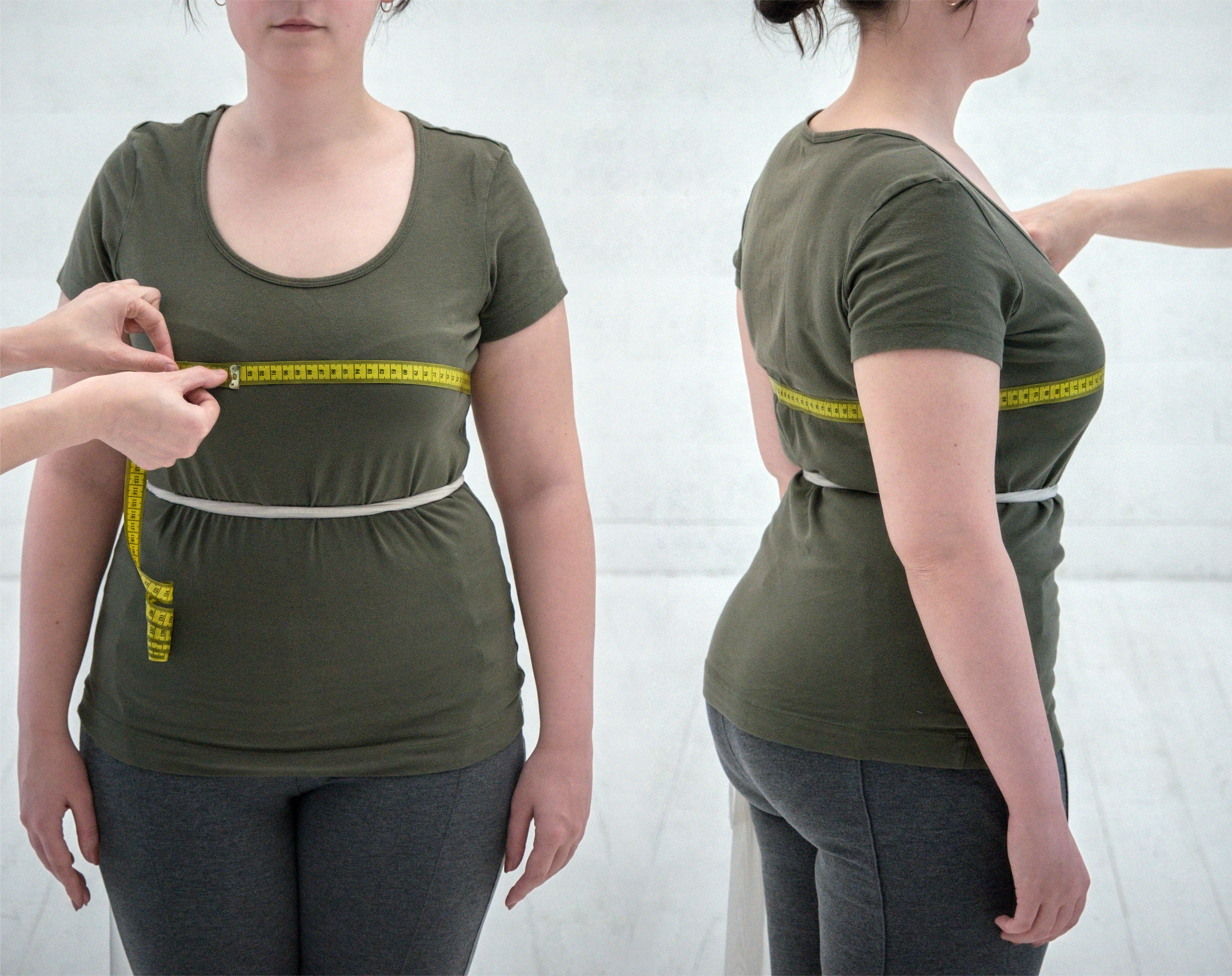 Underbust circumference: level, just under the bust.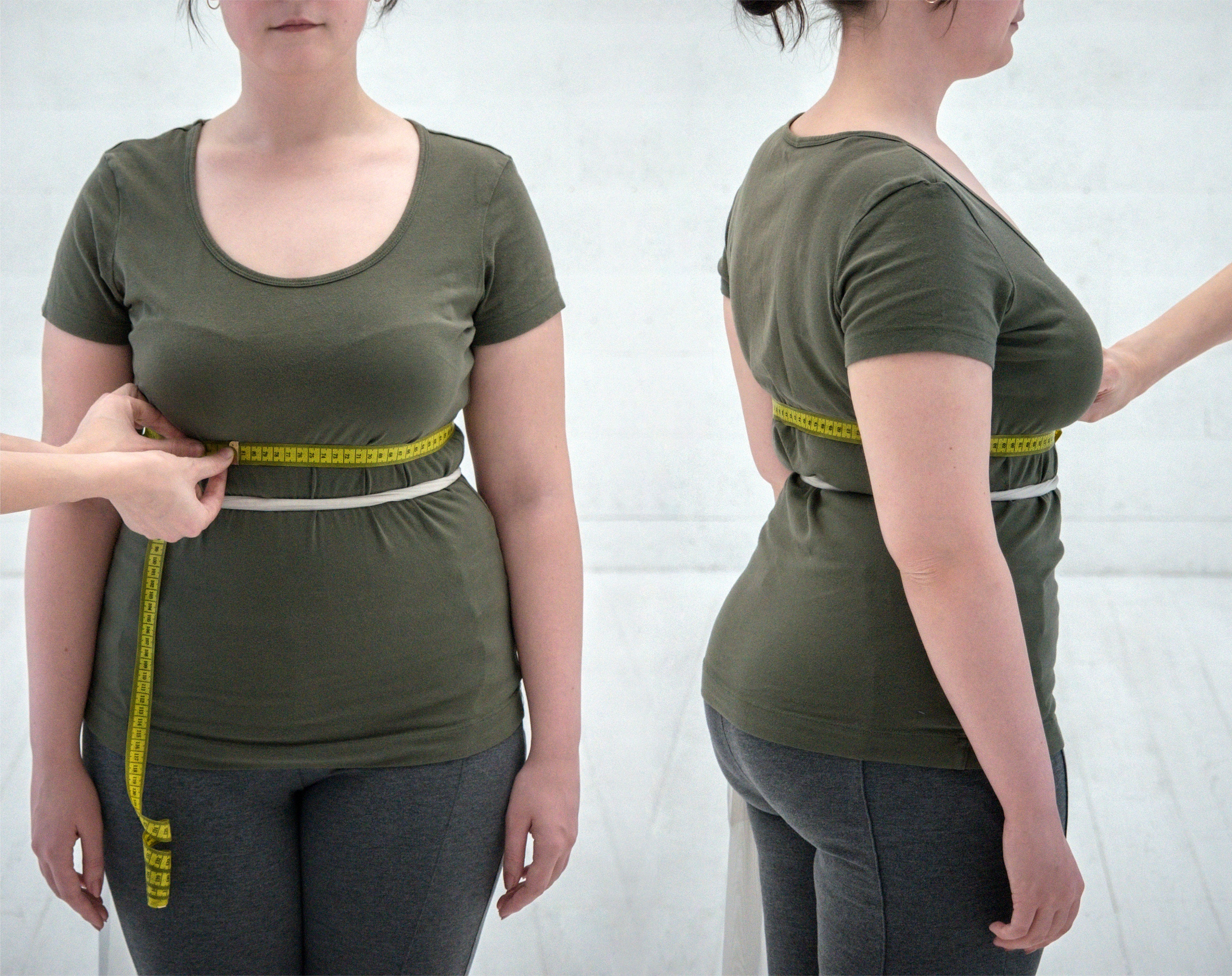 Waist circumference, making sure you're measuring just like your marker is - level, same height in the front, side and back. If your waist marker is something thick, has a large knot or anything like that - please remove it for this measurement, it's better to have this one slightly tighter than too loose.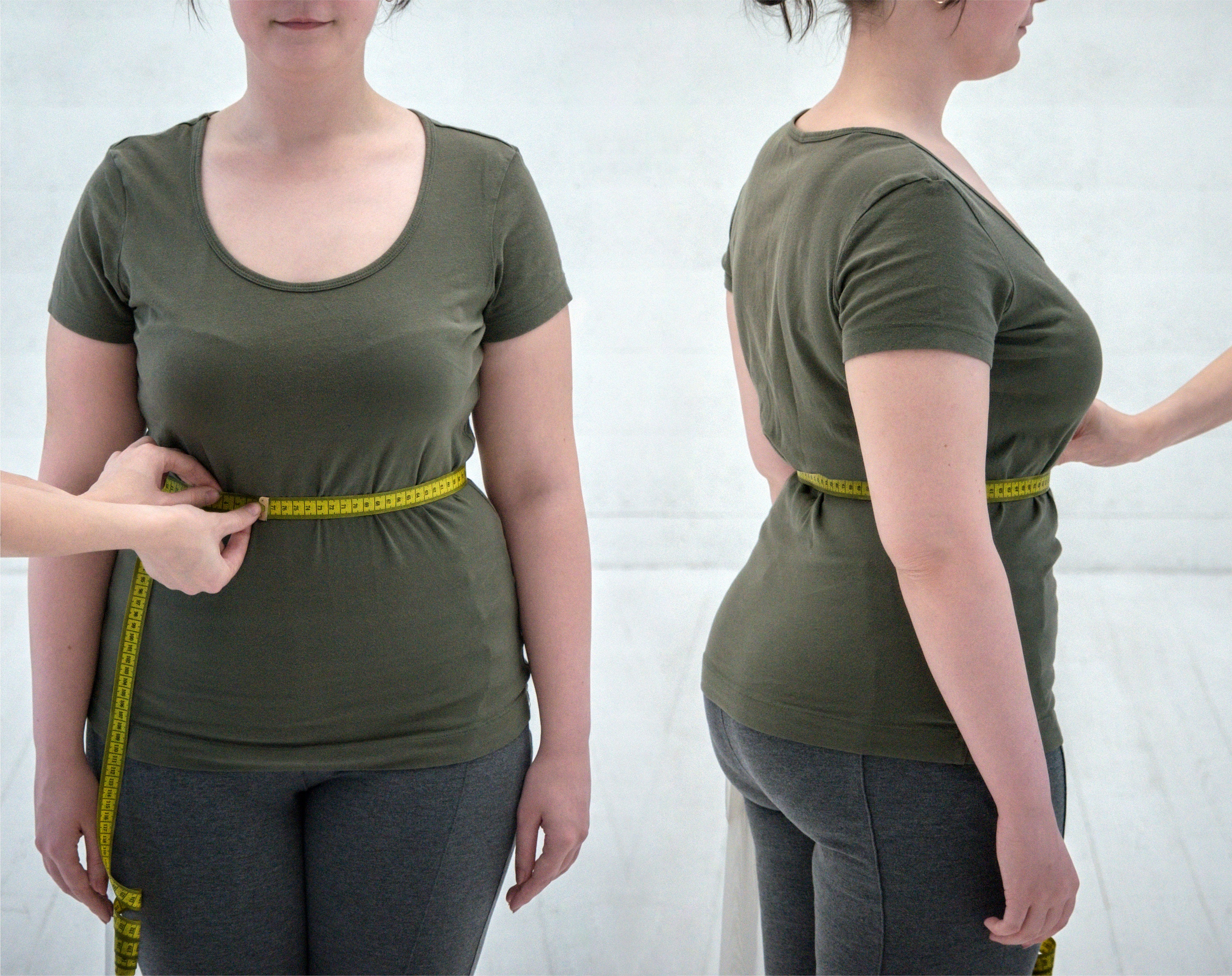 Hip bone circumference, like below. Pretty much the spot where low rise jeans would have their waistline. You can skip this one if your top is a crop top (like Vivian).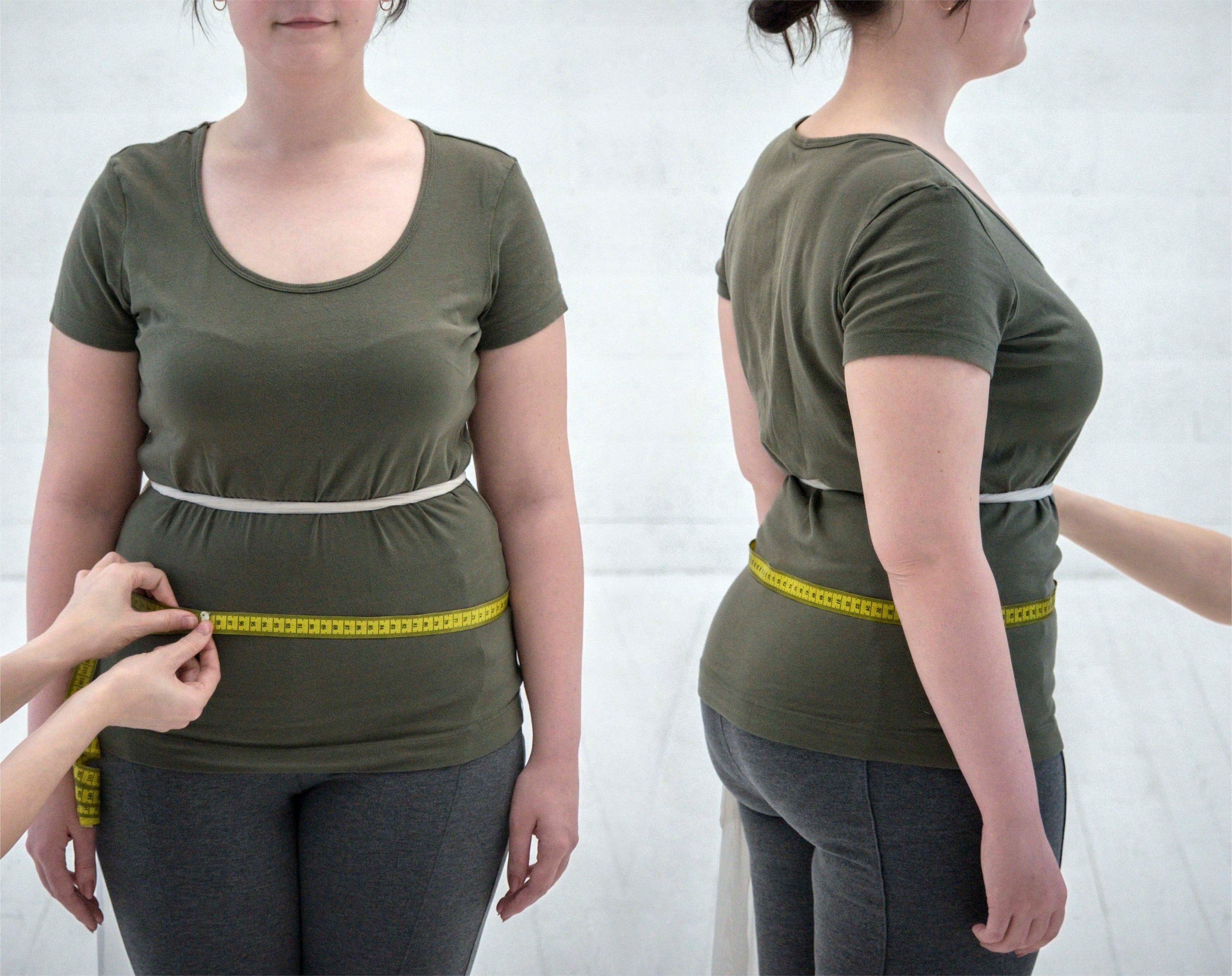 Fullest part of hips circumference. Also skip this one if you're getting a crop top.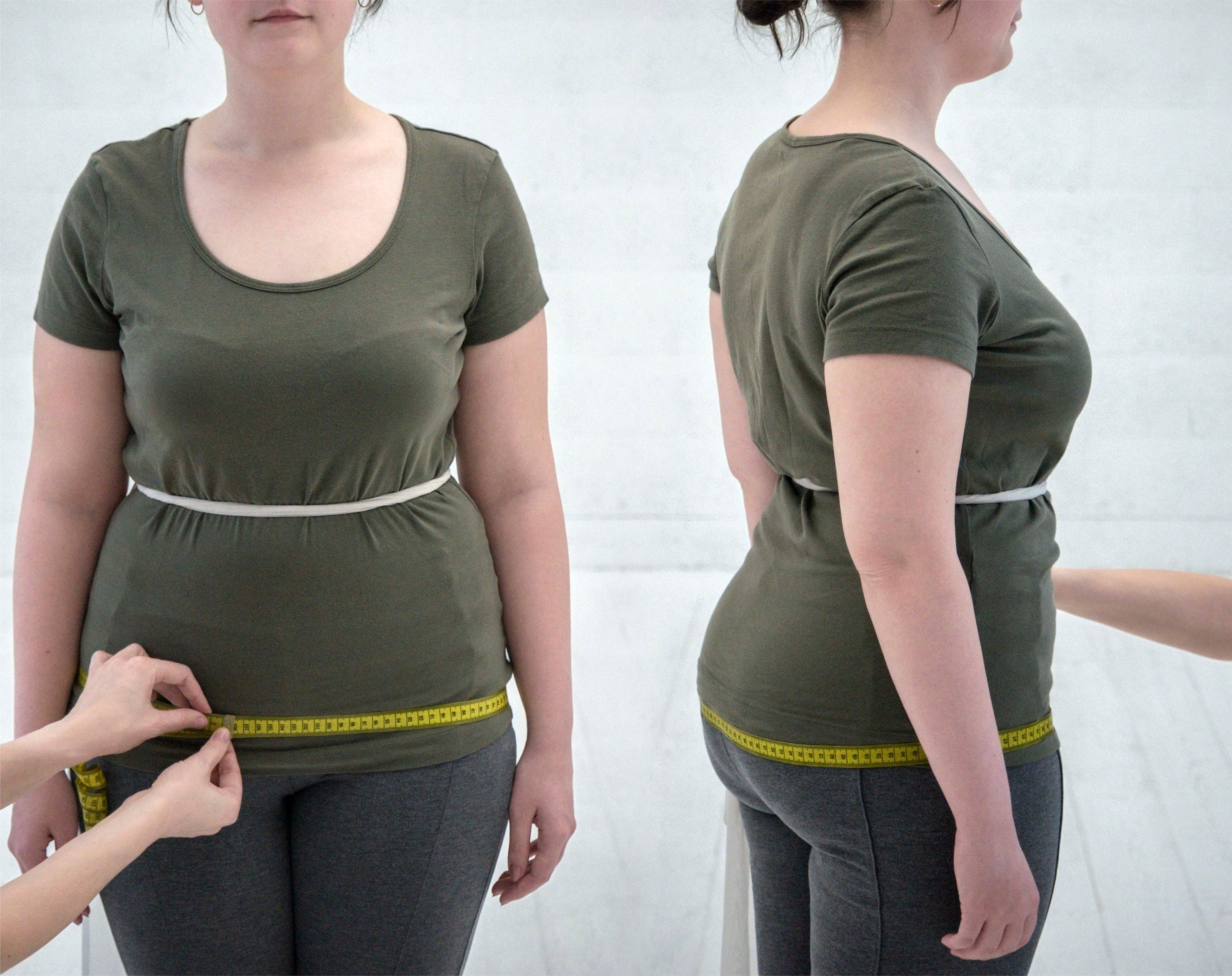 Shoulder width (one single shoulder). Do not go onto the neck or down the arm - touch the bottom side of the neck and stop at the middle of the shoulder, T shirt seams are a great helper here. If you're not wearing one, then stop at the middle of the joint - that's the exact spot.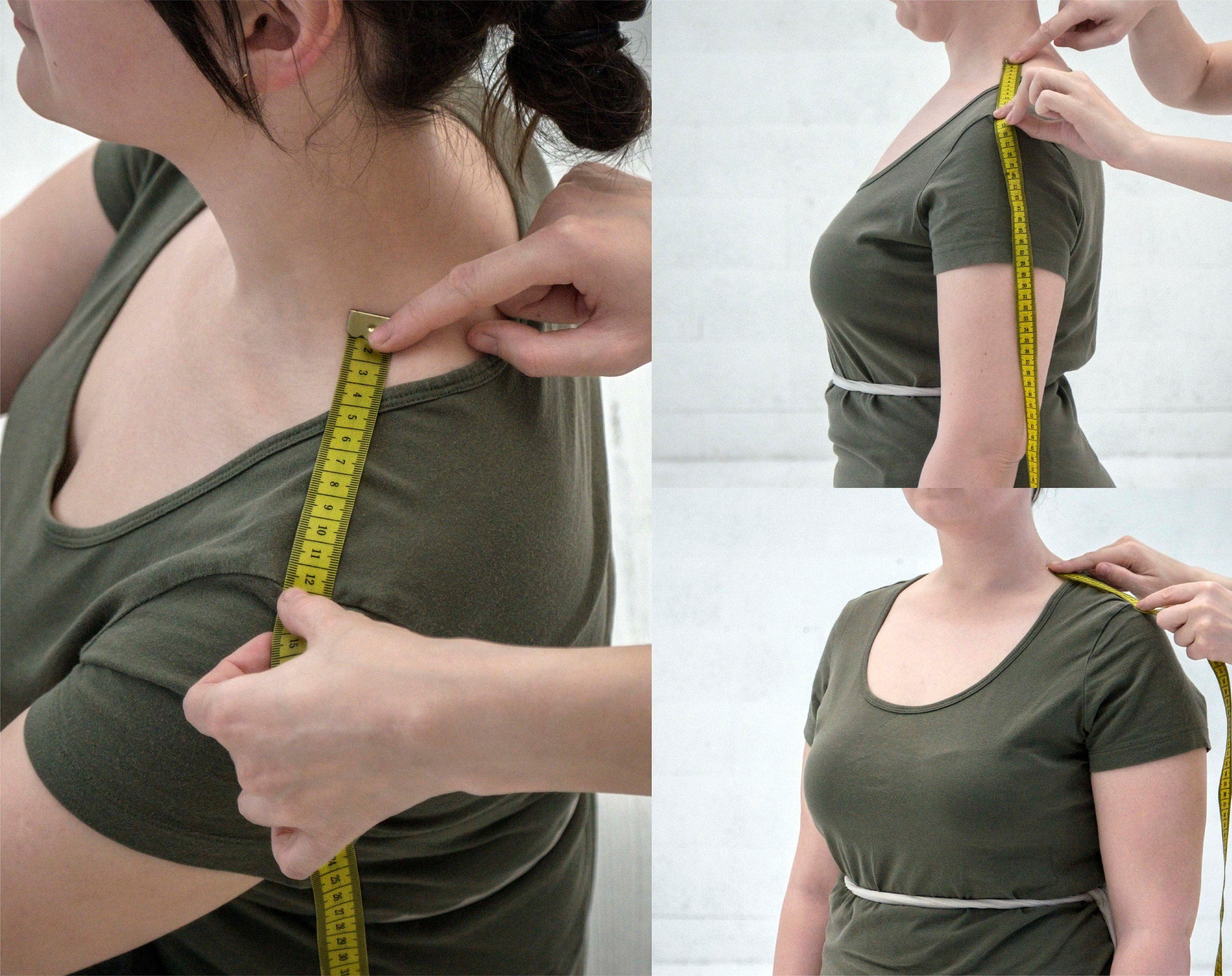 Next up, probably the most important one - the nape to waist. Make sure the tape is straight, not angled, not loose, and if you wonder where exactly is the nape, here's some instruction. If you draw an imaginary line accross the back of your neck, you shouldn't hit your shoulders but also cannot go above onto the neck at all. It's where the neck ends and after that becomes a back. Below some great photos to illustrate where it's meant to be started. Please note that a photo from you is to not be angled like the first example on the left.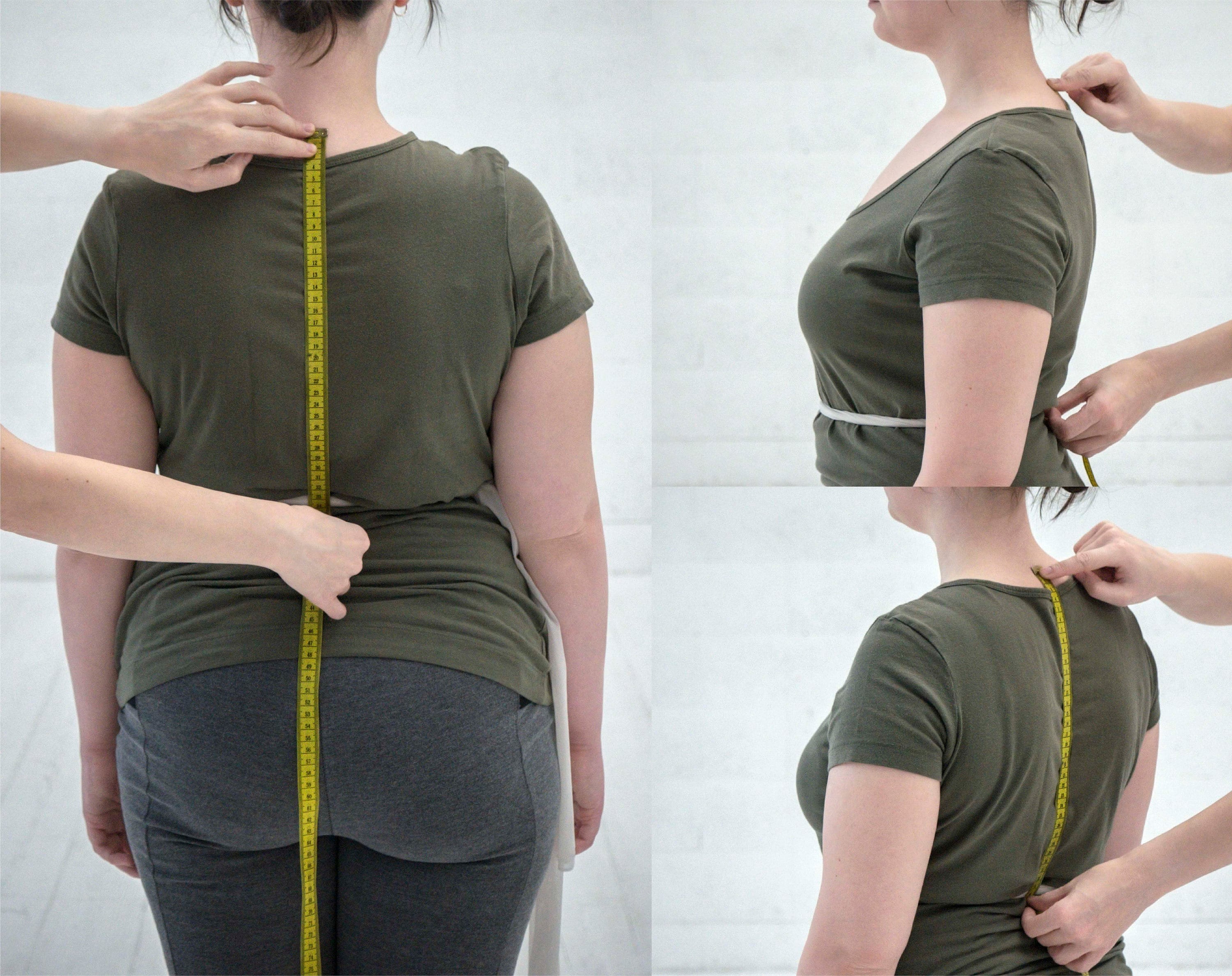 Back width. Have your arms down and have a friend hold the tape armpit to armpit (very top of armpits) - but not at all going into the armpits themselves, just to touch the arm. T shirt seams are helpful here.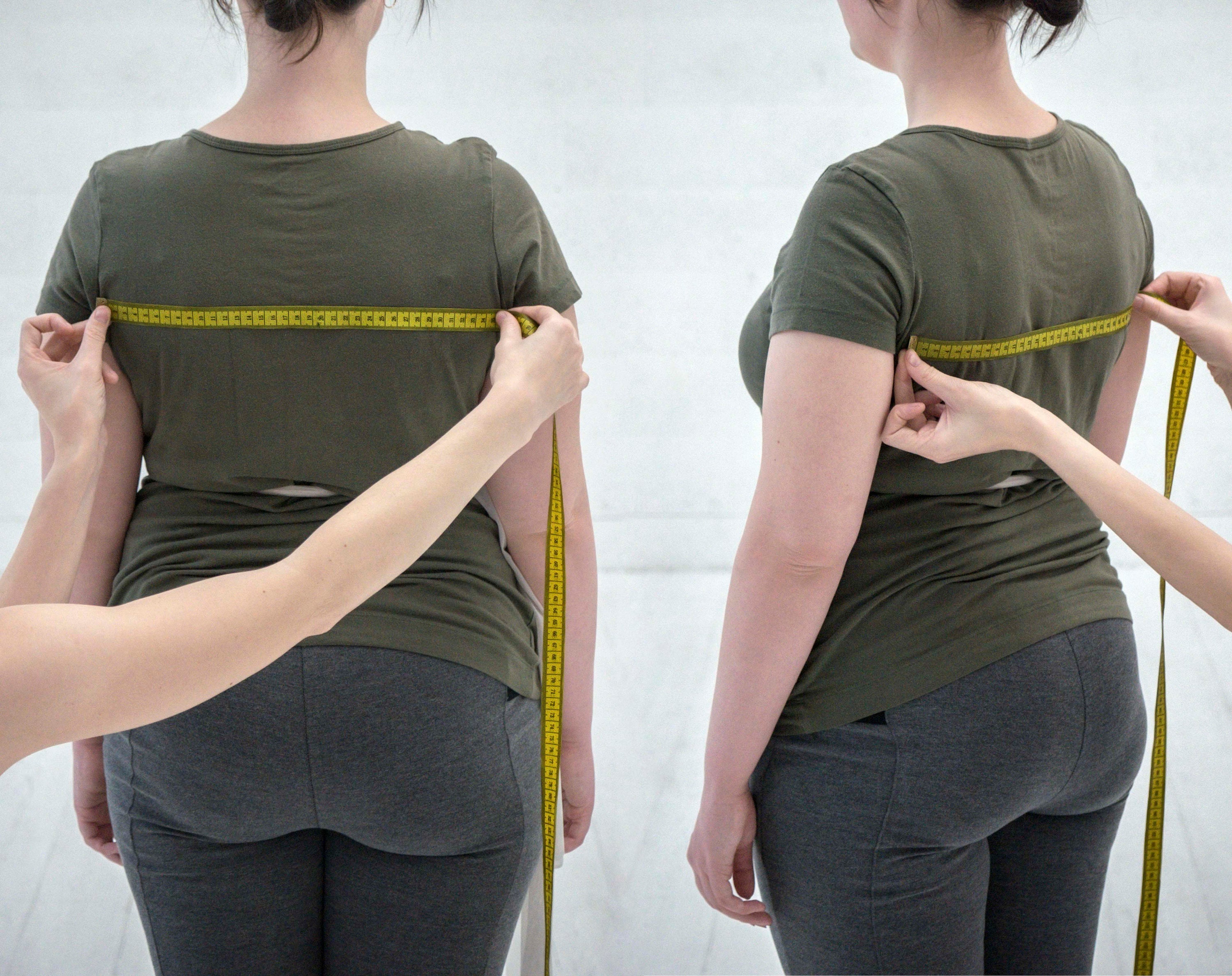 Then, measure shoulder to bust point. Bust point is the most protruding part of the breast, commonly the nipple, but not always. Very important that you are wearing the bra for this (as all the other measurements, but this is where it gets crucial). Where to place the tape on the shoulder? Vertically straight up from the bust point.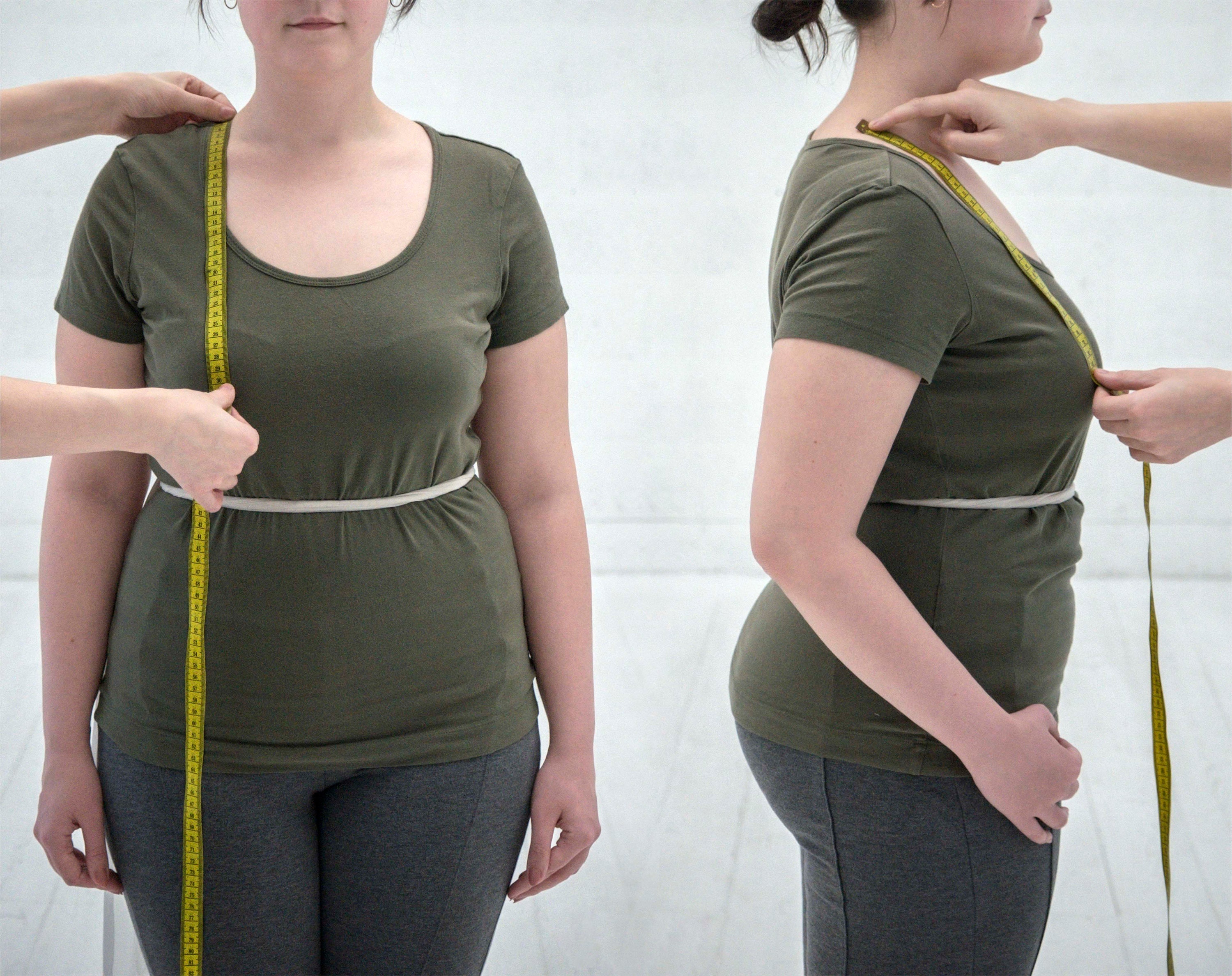 Bust point to bust point. Connect the dots between the bust point and measure the distance from one to another like below.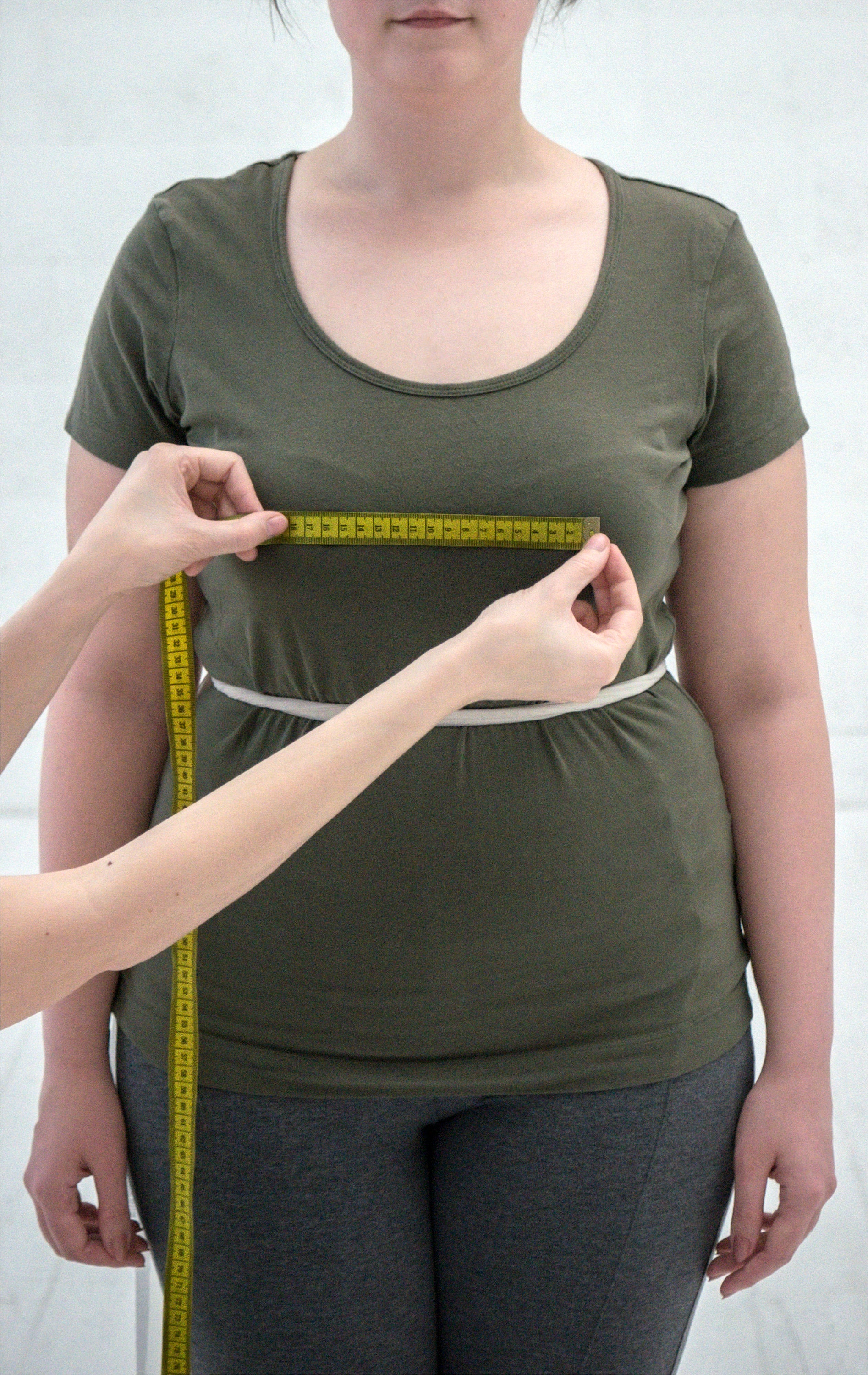 Almost there, just a few more! Shoulder to waist via bust point. Again bust point is the point from where the measurement goes up and down - both ways in a straight line.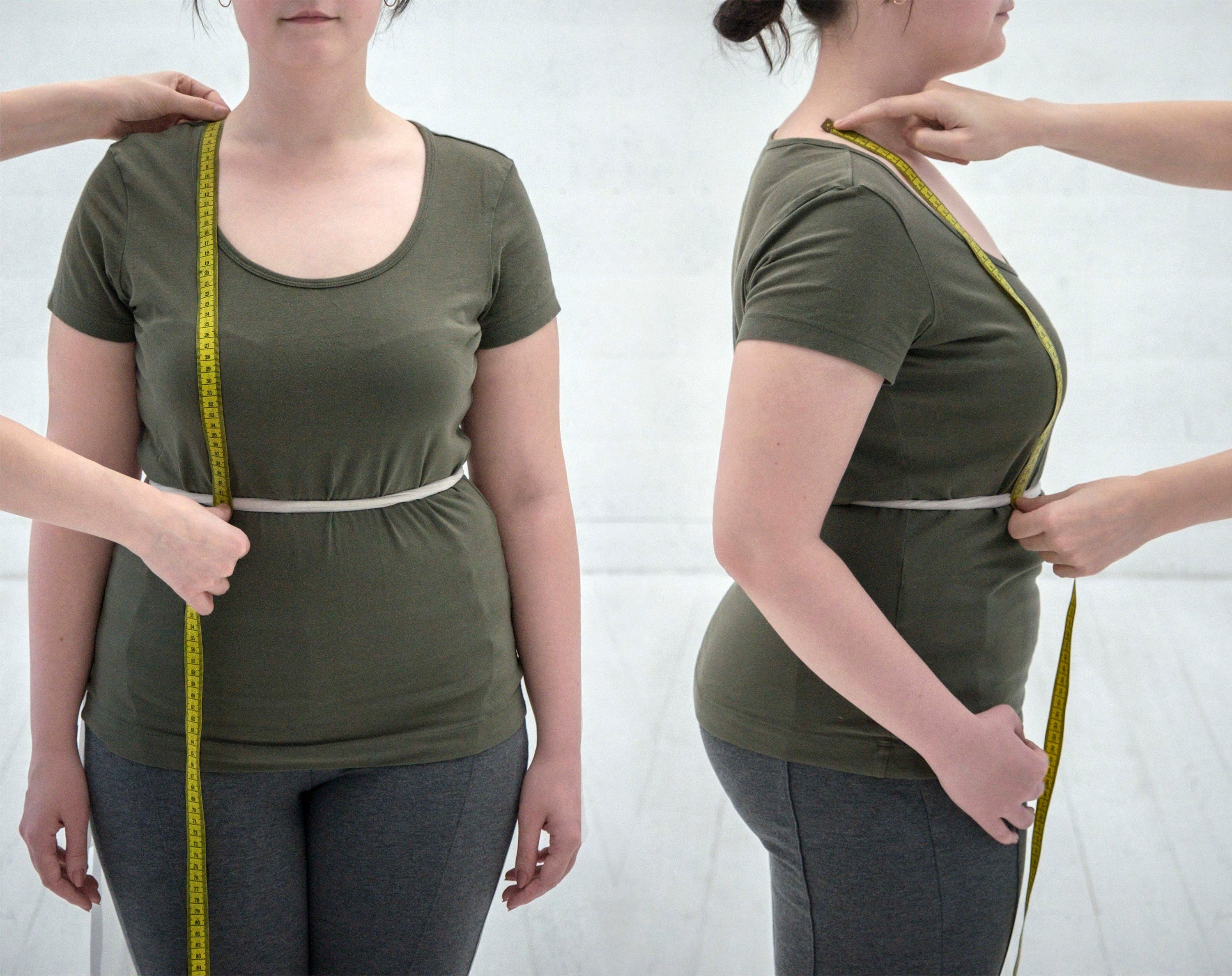 Armhole circumference. Through the armpit, straight up, not loose, not too tight. We will add per design,we just need your actual body measurement here and please try not to slide down onto your arm at all.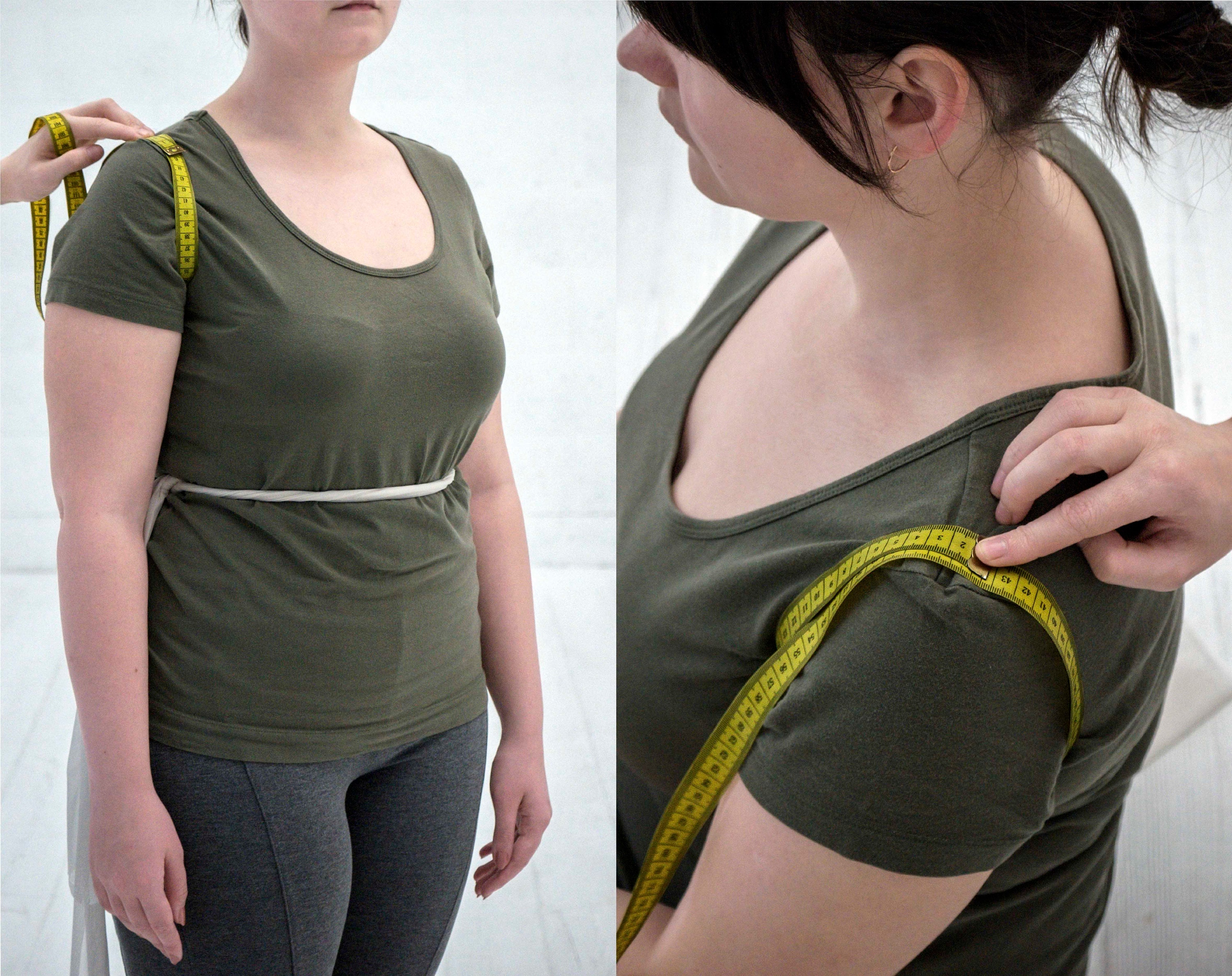 Your full height. No photo of that, just how tall you are in general, without shoes of course.
Bra cup measurement. We only need this one if your top is one of these: Una, Estelle, Heather, Vivian, Nora, Nayeli, Dahlia, Grace or Gilda. One of the tops with built in cups.
Measure the cup of the bra you ideally worse for these measurements, like so: Cup side to center, through the most protruding spot. If your bra is heavily padded, perhaps measure one that isn't, or measure the inside of it but following the same principle (following the inverted curve).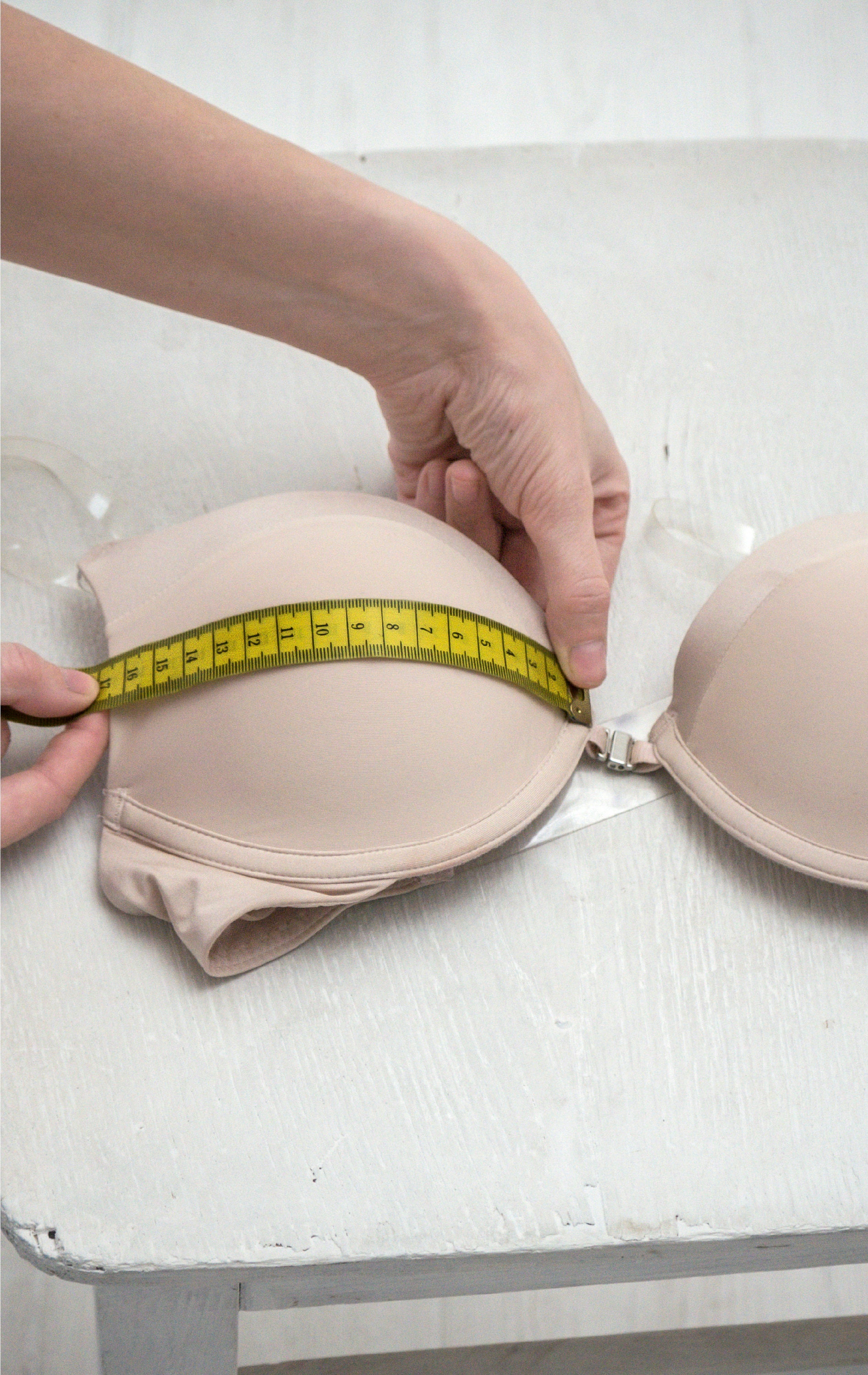 So if you're getting a top that's not a bodysuit and doesn't have sleeves, you are done!
If you're getting something that's a bodysuit like Estelle, Soraya, Indra, Tulia, Nora, Fearie, Millaray, Helene, Paloma, Dolores, Tamsin, Eleonor, Yona, Octavia, Azura, Raina or something modified with added panties we also need two more measurements:
Crotch depth measurement. Measured sitting down - from the waist marker to the chair in a straight line like so: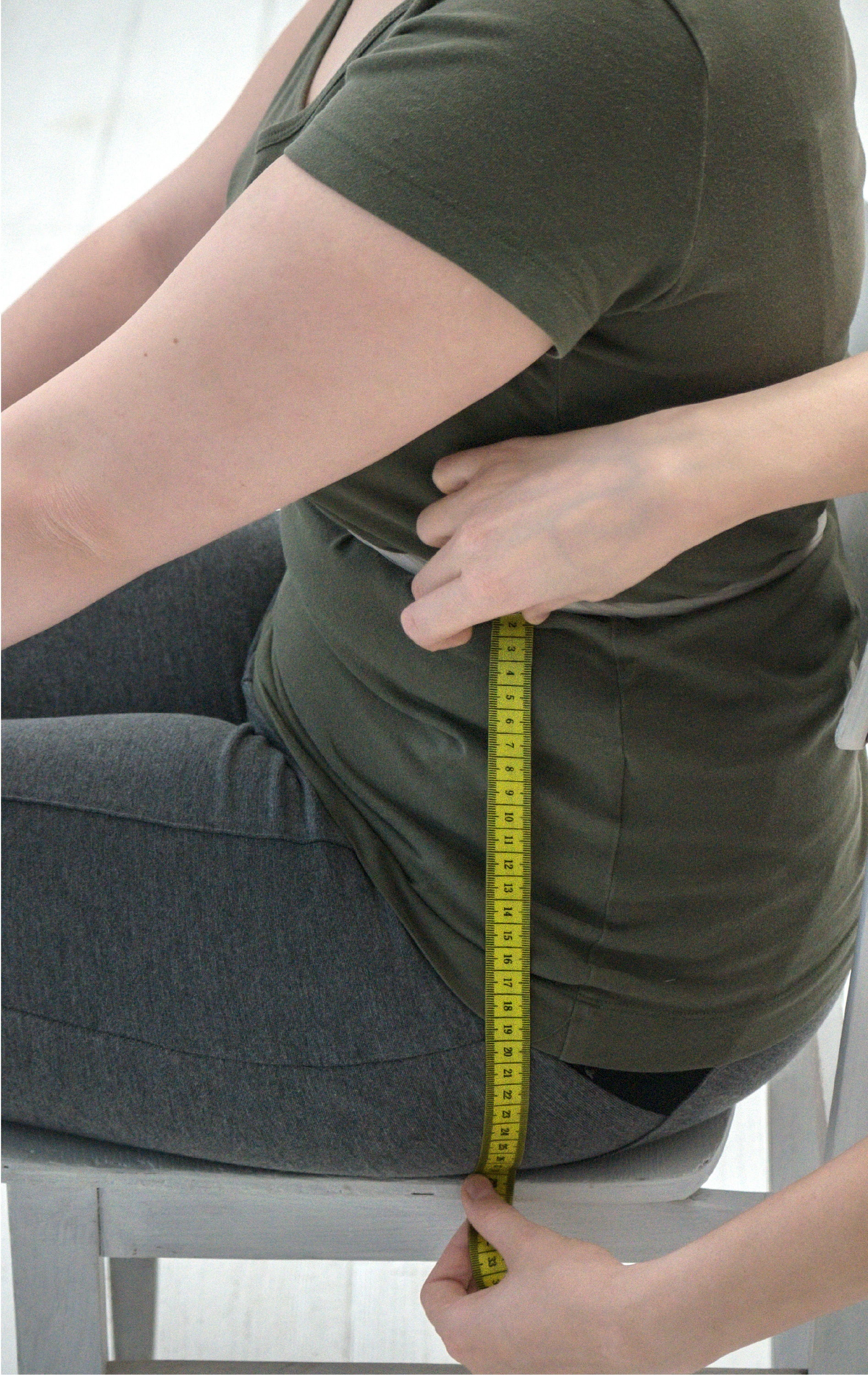 Crotch length. Waist marker to waist marker through the inseam like the examples.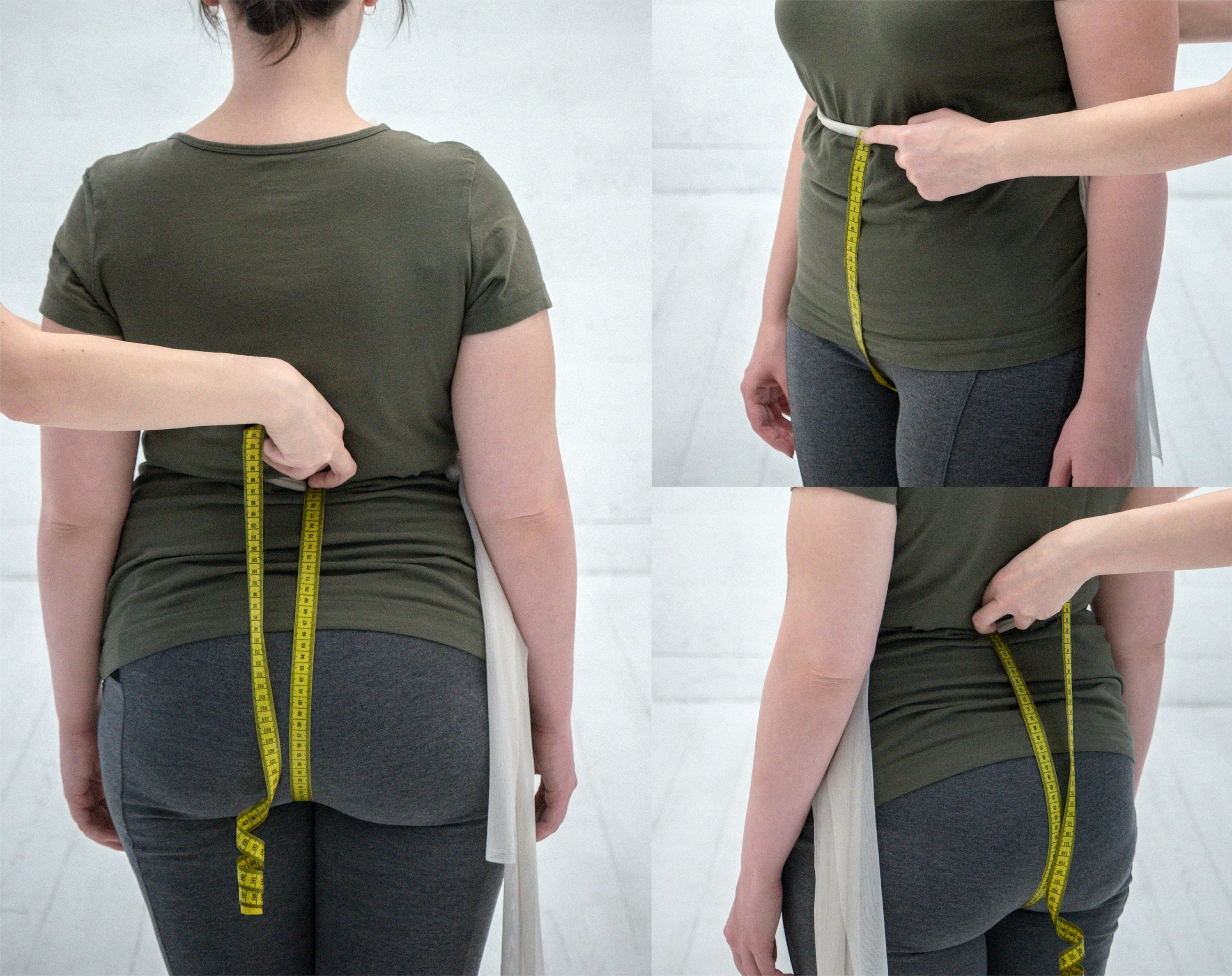 If your top also has sleeves, then we also need these measurements. If it's Estelle with standard Estelle sleeves, then only upper arm circumference like so, make sure you are measuring the fullest part of the upper arm circumference.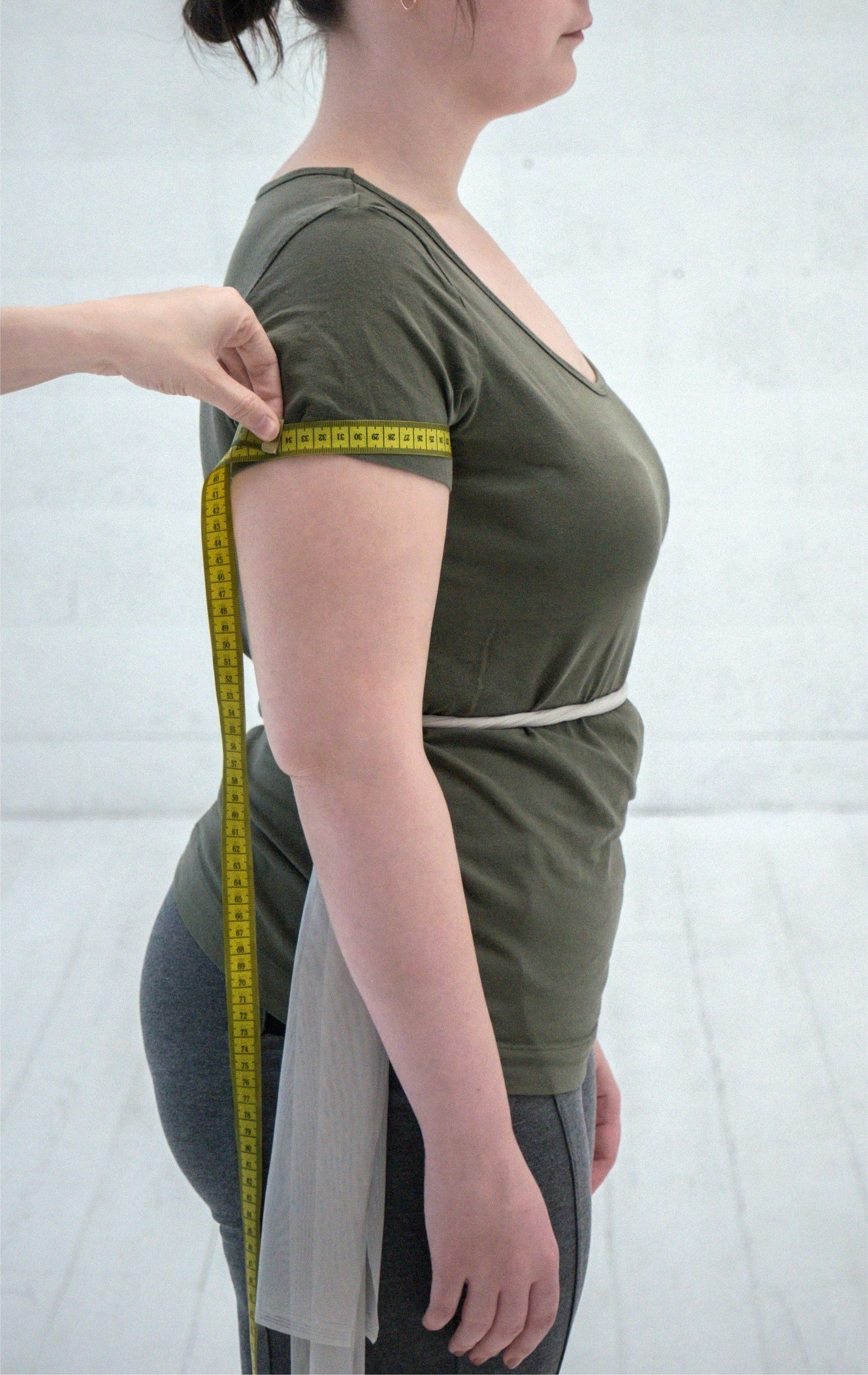 If it's not Estelle, but another top with sleeves (or modified Estelle sleeves) you also should measure the desired sleeve length (you get to choose it, if you see Maegan in the listing is 3/4 sleeve, but want a short sleeve or a full length sleeve, this is where you let be known via measurement).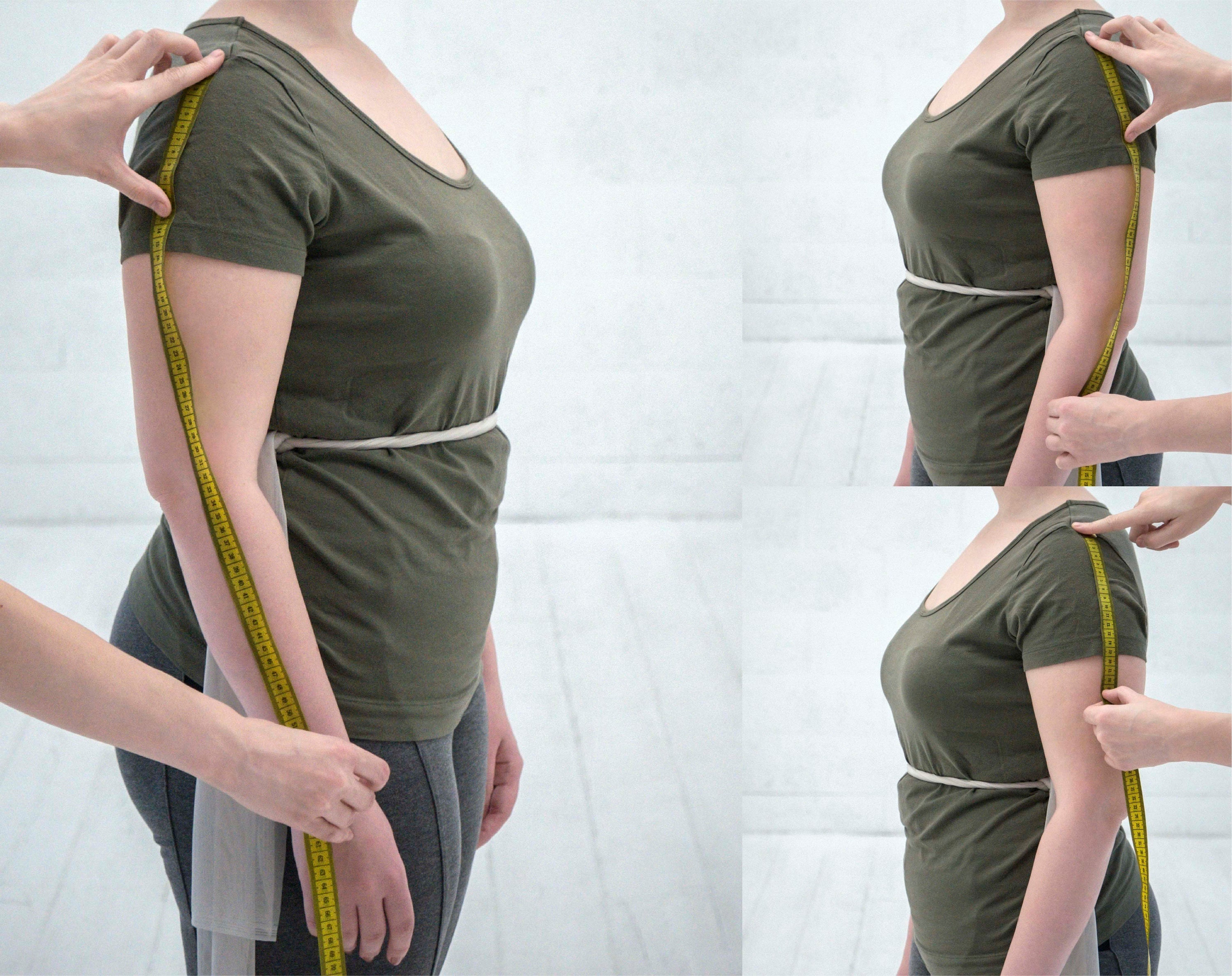 If the sleeves are fitted (not like Grace, but Maegan) then we also need end of sleeve circumference. If it's the long sleeve then it's the wrist, if it's 3/4 sleeve then it's of course quite above - wherever your sleeve is meant to end, that spot.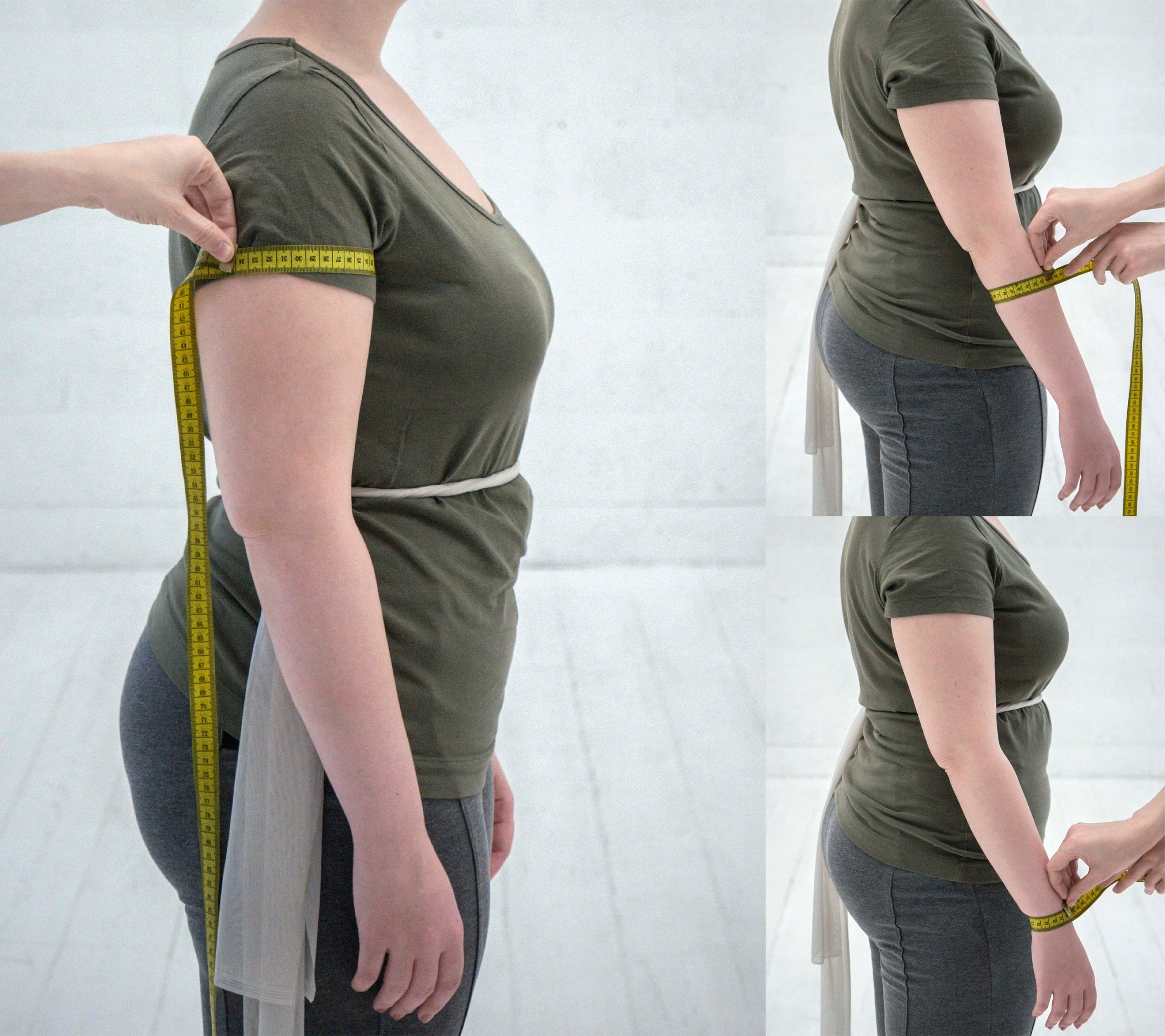 And the last one is only if you're getting Una, not a measuring tape, but here's where you should measure the shoulders circumference.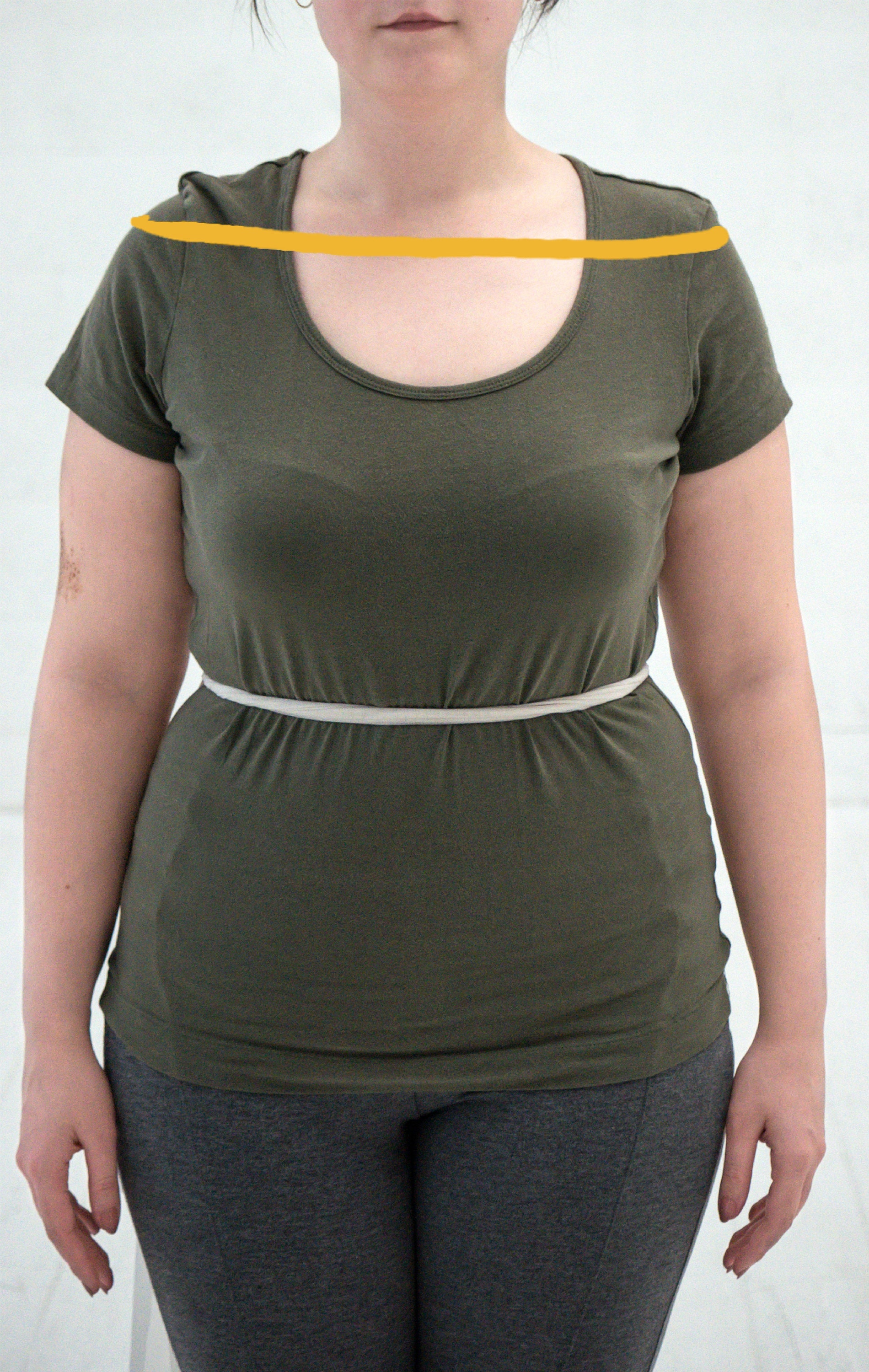 And that's it if you're getting any of our tops! 
Please also kindly acknowledge, that alterations can still be needed for our tops, and that we will be available for any and all advise about that, as well as all any of your concerns post delivery, should you have them. To ensure order satisfaction, I recommend reading this blog post as well: https://www.wardrobebydulcinea.com/post/960863232259/how-to-ensure-your-order-meets