These are just a few of the quotes from brides that I have received:
"I'm scared on buying online as it's something I've never done with such a special occasion."
"I am loving you dresses. I am terrified to order my wedding dress though!"
"I'm afraid to purchase without seeing in person."
"I'm afraid to buy without trying it on."
These thoughts may seem familiar, because, no surprise there, it is indeed scary to buy online, especially ones wedding outfit. Besides these statements of how afraid they are, I also get asked if I can somehow provide reassurance, and hence this blog post, that I will later send to all the brides, who are afraid to buy their wedding dress or part of, from me being an online only designer. 
First of, it's actually good to be somewhat afraid, within reason of course, as it is a great motivation to do all the necessary research, make extra plans, prepare yourself, etc, even a motivation to read this blog post and get to know my work ethic better. The more informed you are, the better. 
Now let's tackle on why you could be afraid and what you should do to feel confident in your decision. I will speak about my brand and what we do to be trustworthy and reliable, but absolutely feel free to ask these questions any other brand you're considering for your wedding attire. 
Potential reason number 1: 
What if it does not fit my body type? This is both the most common and probably the hardest one to tackle. We are so used to the fast fashion garments that are all made like everyone looked the same and had the same proportions, resulting in so much disappointment after we try things on. Made to measure garments are not like that, they are made to measurements in proportion to your height.
Specific details like open back dresses and significantly large busts might not be the best combination, regardless of whether or not the dress is made to measure, and some design changes may be a good idea - in which case - just reach out, send photos of you, ask for advice, name your concerns and get in front of them. Want to conceal large hips? Emphasize small waist? Show off your clavicles? Only feel good with a V neck - can this top be that? Not comfortable with a train? Want an open back dress, but need the support for an F size bust - what are the options? Ask without fear and we will certainly figure it all out together.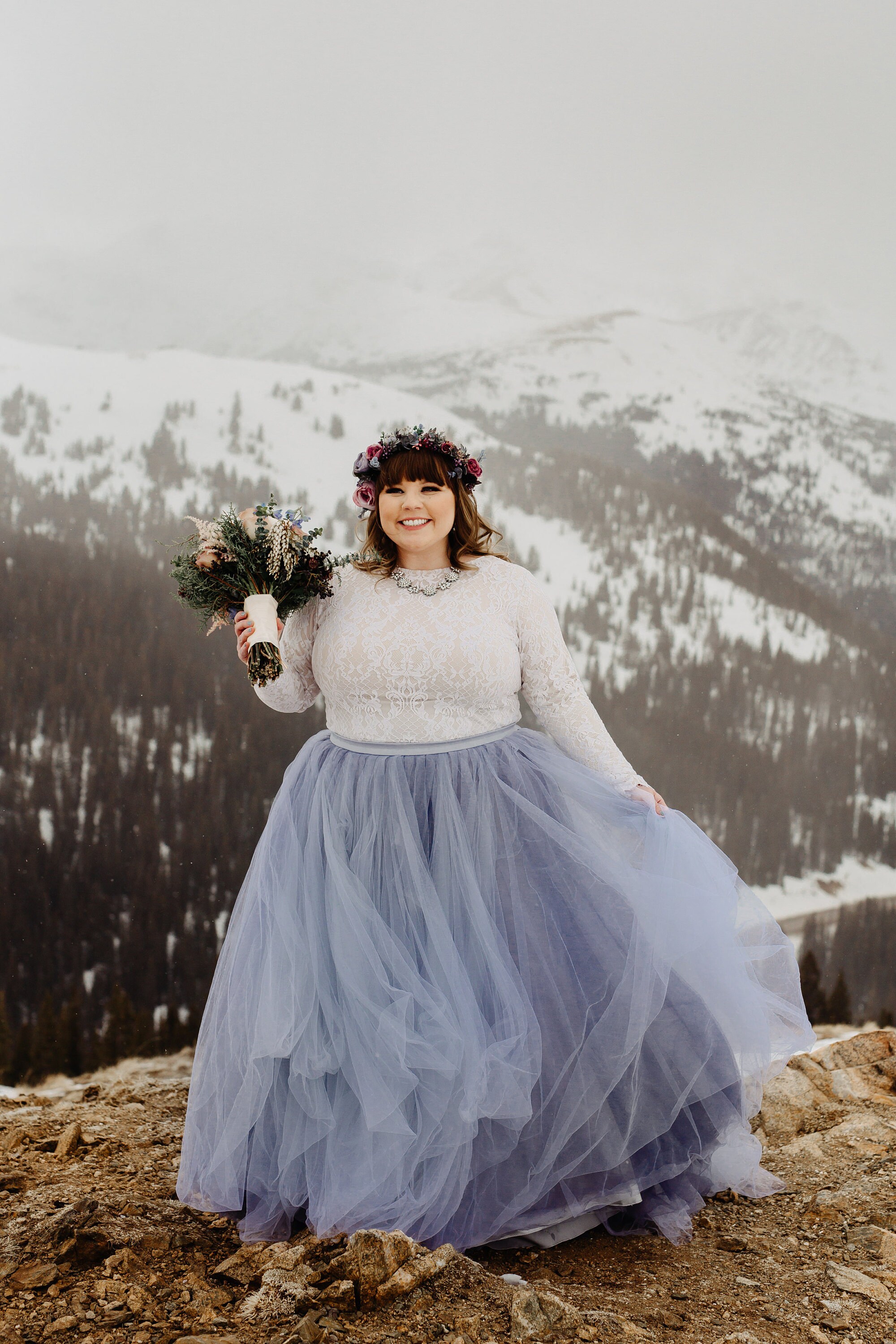 My bride Megan in customized Magnolia top and custom colored Nora skirt. Photo by Amy Bluestar Photography.
Potential reason number 2: 
What if it doesn't fit at all? Not related to the body type, but what if the measurements are all wrong? There are definitely ways to prevent that from happening. Get a photo of everything you measure, send me a Google drive link and I will personally see if the measurements are correctly taken, sometimes I will just adjust something as I see some start too low or too high. When these measures are taken - why would it not fit? Another thing is to have an open mind and book a local tailor for final alterations - even with all measurements being perfect, some garments, such as bodysuits, especially open back ones - are very posture dependant, and therefore you may still need some final nips and tucks in some places to have it fit like a glove. That is normal and should be prepared for. For this reason, we don't offer "a day before the wedding deliveries", such rushes are just declined and not considered, and we strive for at least a month in advance whenever humanly possible and are up front about it before the order even happens. I also specifically design pieces in a way that they are easy to alter. When creating every single design, I carefully think and consult my team of tailors "how would one alter this, what could the issue be here, can we make it easier for them to get it locally altered if needed?". So even if you messed up your measurements quite a lot, it can most likely still be saved with alterations. And if it really can't - we won't leave you stranded either. There has been several occassions where we sent extra fabric post factum, an new pair of sleeves as a replacement, or even took it back to remake something entirelly. There isn't an occasion where we just say "oh, well, see, you measured it wrong, not our fault, take care". This isn't ever the approach. Who is to blame for the ill fitting garment that's one question, but it's not the most important one, the most important one is what can be done about it? And so far, the way was found in 100% of all kinds of issues we have ever encountered and we have every intention to continue this trend.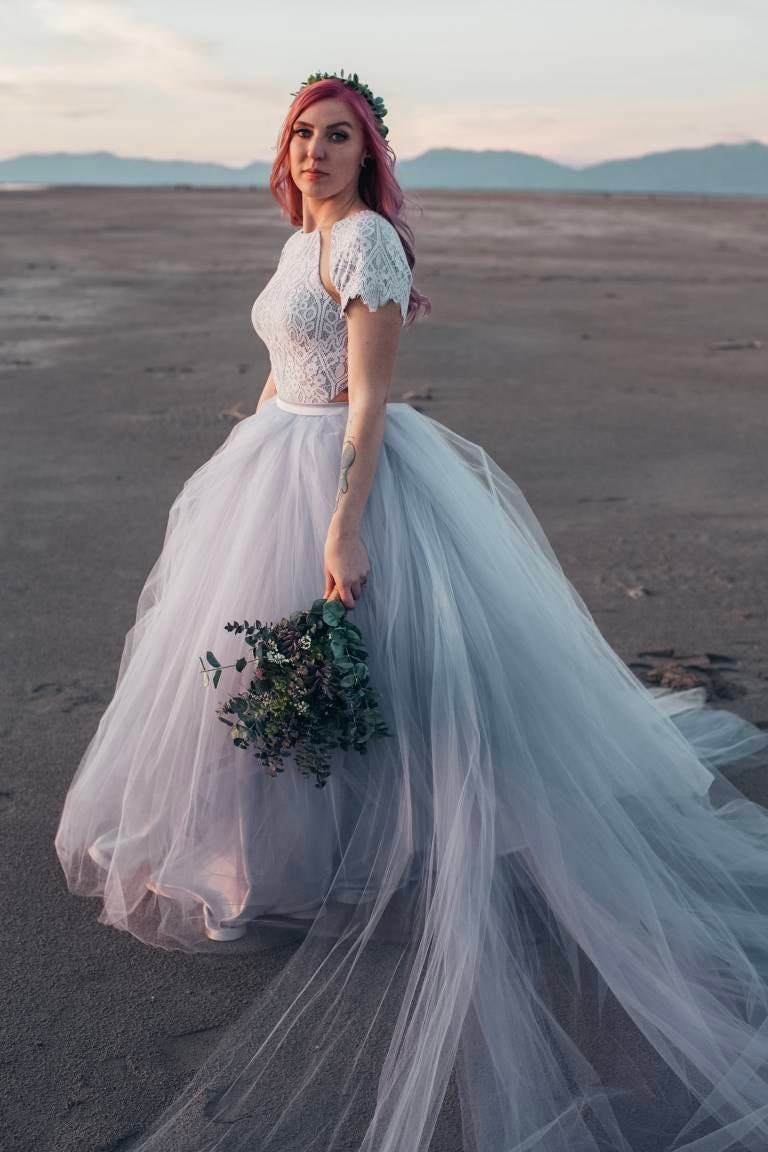 Another Megan the bride of mine, with perfectly fitted Dolores bodysuit and Zephyra skirt in ivory and greys. Not currently aware who the photographer is, would love to update this if given the information. 
Potential reason number 3:
What if it will be late? I say "at least a month in advance", but can I really control it? Yes, I can, and while most sellers out there say "I shipped it and it's out of my control", I have never said that in my entire life, but instead I always say "I can guarantee an on time delivery by date X". We have been operational for 7 years and never missed any deadline, and I don't mean it like "we made it in time for the wedding", we literally never missed a deadline we agreed with a customer on, in fact, we have always delivered early. How is this possible and how am I this confident? A few things.
We only use DHL Express Worlwide - a door to door courier delivery service, fully trackable at every step, and their timelines to everywhere in the world are just days, not weeks, and most commonly, not even one week. From Lithuania to NYC it's just one business day, and because of the time difference, it actually looks like the package is moving backwards in time, it leaves the airport in Germany right after midnight, and lands right before midnight in NYC! So this is how we ship, and on top of that, when we promise a deadline to the customer, we then give ourselves an even tighter deadline (off the record) for "just in case" kind of situations, and always ship at least several days early to beat the deadline. To us, meeting the agreed deadline is not something we strive to do at all, it's just common sense, it's mandatory and just a given. We strive to beat the deadline and to pleasantly surprise our brides by giving them even more time with the dress at hand. But if something did ever go wrong, if a delay happened for any reason - we are more than prepared for it, and in a situation like that, we would just meet the deadline, that being the worst possible outcome.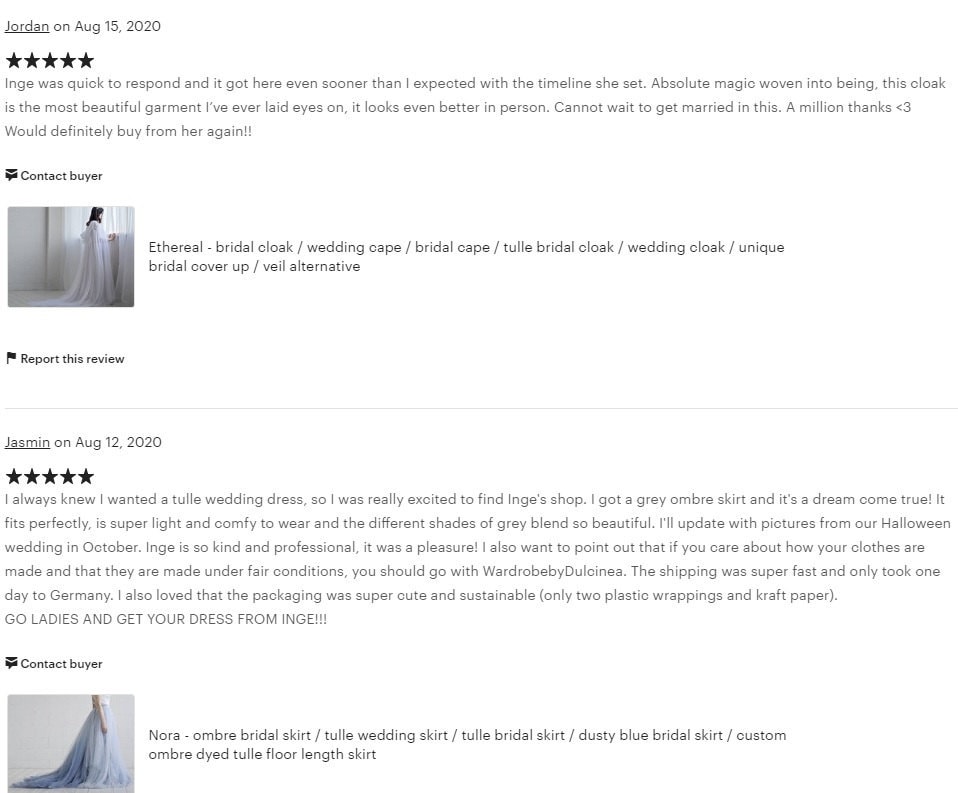 Just a couple of the reviews that mention it.
Potential reason number 4:
What if it looks nothing like the picture? How does it even happen, that a dress you ordered from a seller online, comes in looking nothing like the picture? There is literally only one reason for that - the picture was never theirs to begin with. My designs are seemingly all over Aliexpress, Alibaba, Wish and similar platforms, and private online shops steal my images too, it's a full time job to try and catch them, threaten them with legal action, etc, honestly, I don't have the time to successfully fight it. What they do for example, is put up a skirt with stolen photos of our Nora skirt for under a 100 USD and of course, once received, that one looks nothing like the picture, it's not even hand dyed to be ombre, because the seller who stole my picture had no idea how to even hand dye or what tulle to use to create that design, or how it is constructed. A genuine designer, maker and seller has more than just listing photos - they have photos on their brides and directly from the studio, unprofessional photos. If not readily available - ask where you can find them. In my case, I post daily studio feed over at my IG @wardrobebydulcinea and do post everything to Facebook page Wardrobe by Dulcinea - an extensive customer gallery, hand dyed and not hand dyed pieces directly from the studio (taken with my phone and on a dress form).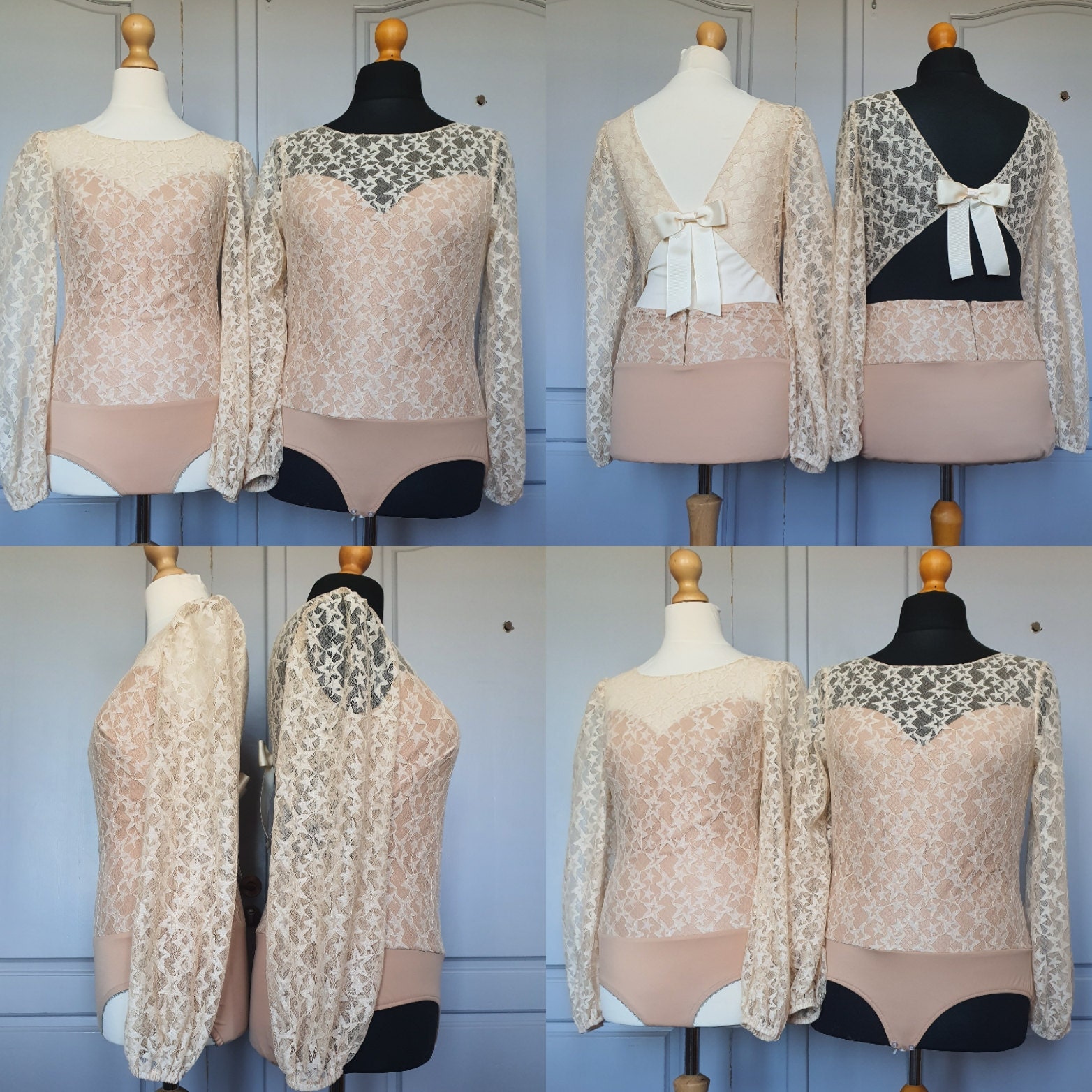 Original Soraya bodysuit on the left that I wore for the listing pictures, and customers bodysuit made to her measurements and in proportion  to her height on the left. By the way, when she received it, she wrote to me and I quote "I tried on the dress finallly and it's so perfect! It's a teensy bit big on the waist but I dropped a lot of weight recently due to stress, it's hardly noticeable though." - she doesn't  feel the need to alter it to feel comfortable in the dress regardless, but if she wanted to - it would be a very easy thing to do for any local tailor. 
These are all of the possible reasons I was able to come up with at the moment. I'm sure there's more, though! Everyone is different, everyone has their own personal reasons and fears, and everyones feelings are valid. That is just something I believe in my own personal and professional life. I'd be more than happy to hear yours and help you overcome the fear of buying your wedding outfit from me, without ever trying it on beforehand.
And two bonus tips I can give for evaluating an online brand, mine or anyone elses. 
1: read the reviews. As many as you can handle, scroll as far as you can! Here's one of my all time favorite ones, because it just says it all.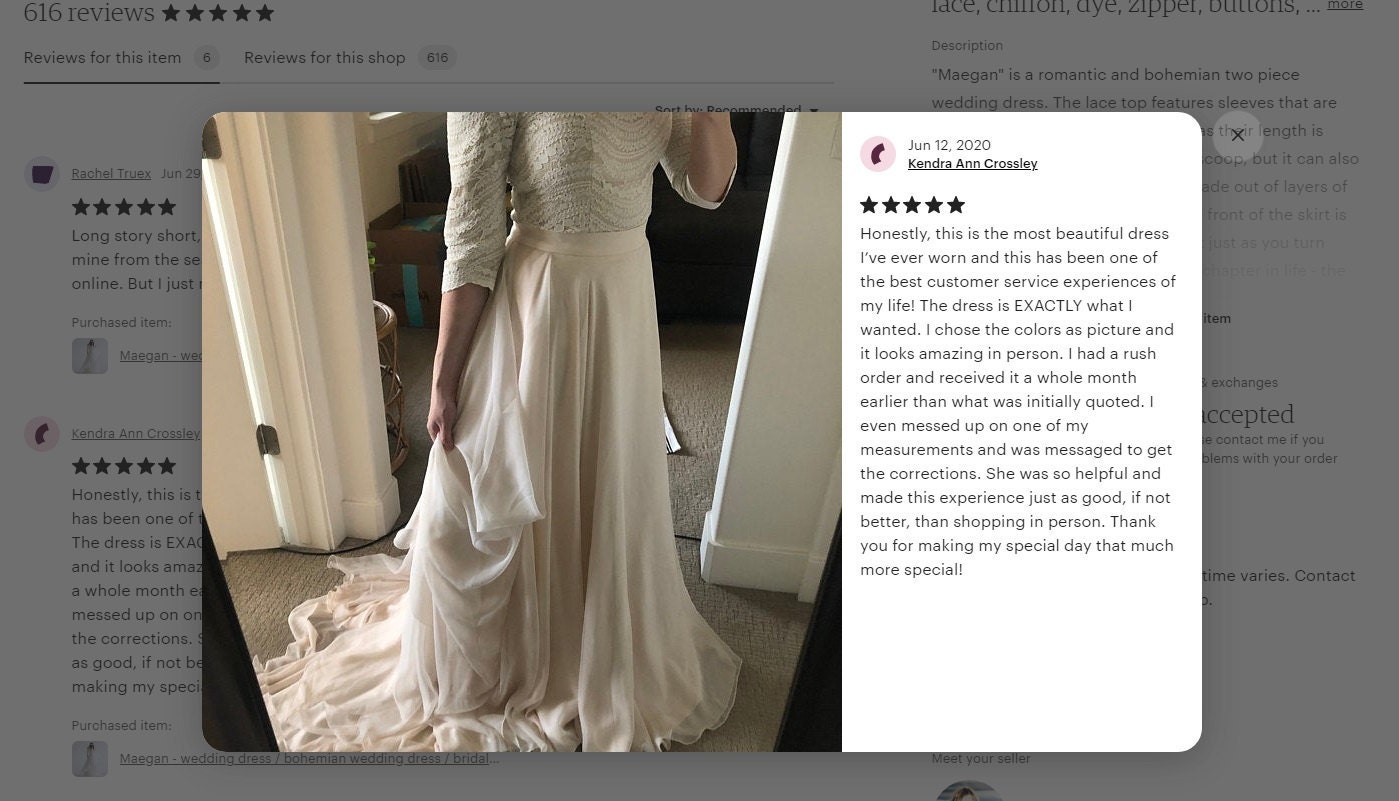 A review of Maegan wedding dress by Kendra. Featuring a photo she took of herself with a help of a mirror.
2: read the listing description! Yes it's annoying, yes there's so much text, way too much text, but hey, it's your wedding dress and you should really know what exactly you are buying.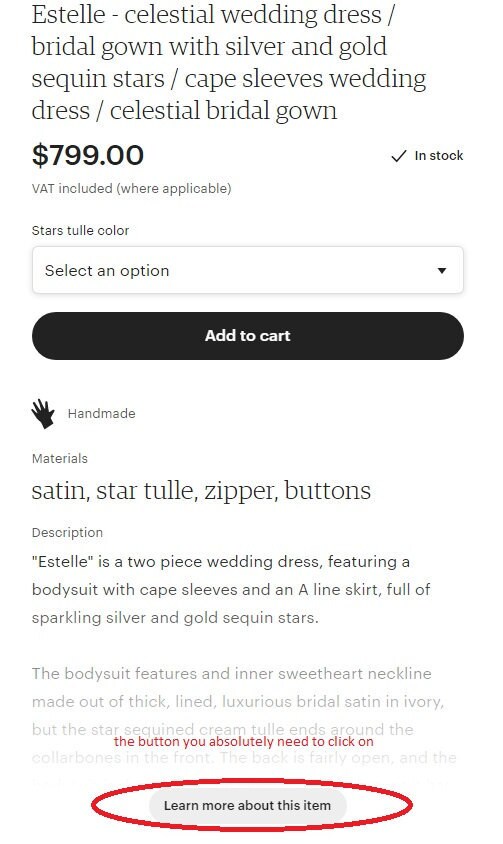 A visual of where to find that listing description on computer.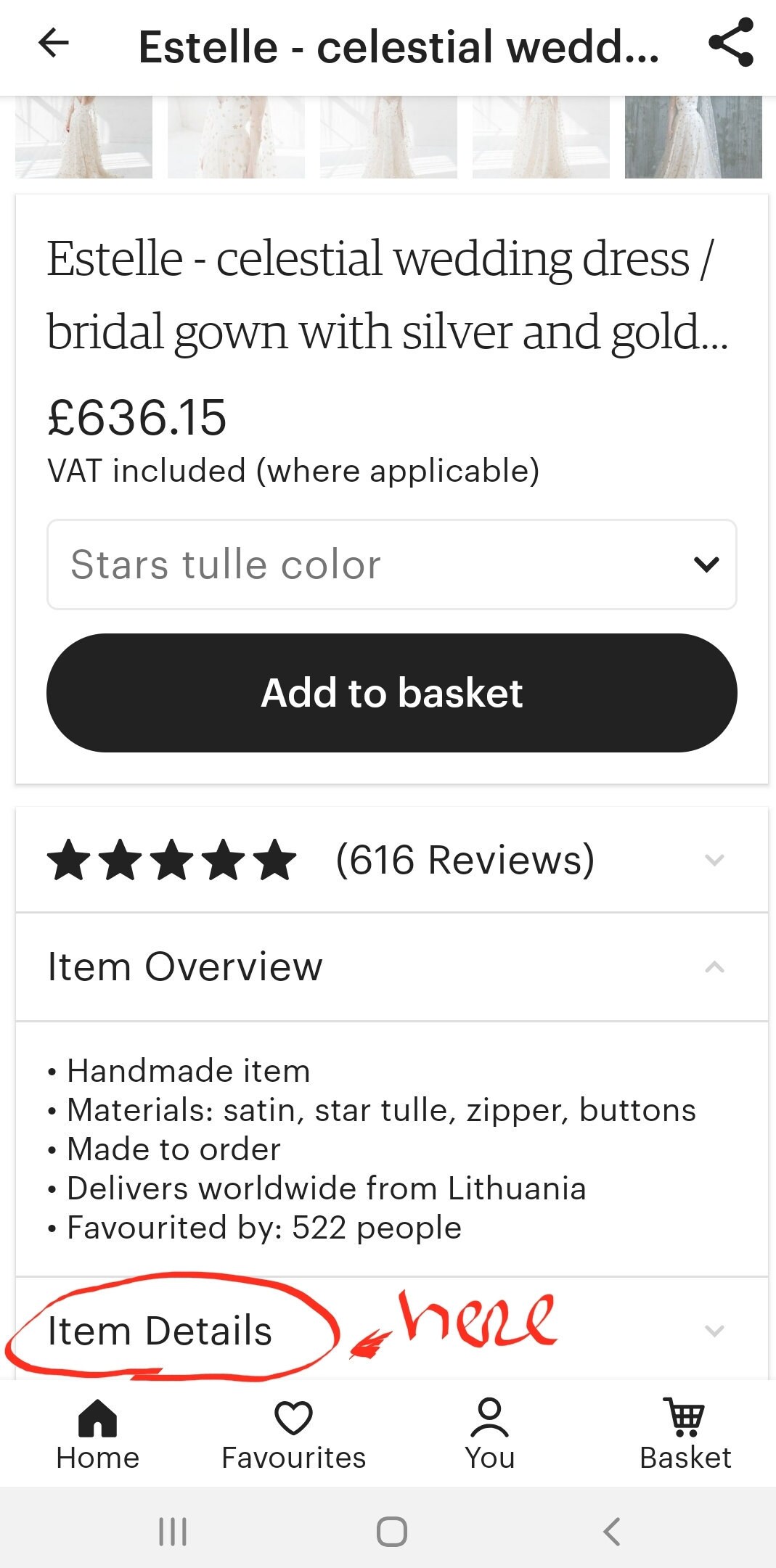 Click on the "item details" and it will unfold. Full disclaimer though - I love to write just as much as I love to design wedding dresses. There's a ton of information in every listing of mine and yes you should absolutely read about the ones you're considering. Photos are not enough to make a well informed decision for such an important day of your life. 
Last but not least, if you like doing the research and reading all the available things, I have this "About" section that lists... pretty much everything you just read about, but also some new things, too, and even has a link to the video where you can also see us at work, in our beautiful and cozy studio in Klaipeda, Lithuania. 
Thank you for reading, and I look forward to hearing from you,
Inge, the designer behind Wardrobe by Dulcinea