An important post of information on what to check out before the order to be sure the order will indeed meet expectations, and worst case scenario - how to approach the situation if it hasn't. It very uncommon, but it has happened twice in 2020 and therefore I therefore by writing this very genuine blog post I wish to provide more information for my customers and potential customers. 
First part of the post will be about all the information you should go through before ordering from my studio, all the questions you should ask yourself (or me). Order dissatisfaction in both cases I referred to in the beginning resulted from not reading listing details (item description), my policies, and of course none of the other resources of information I provide, and thus misunderstandings of what they were ordering and receiving was the unfortunate outcome of said situations. 
So here is a checklist of all things I recommend checking out before becoming a bride dressed by me, an exclusively online bridal designer, listed in order of importance:
1. ITEM DETAILS - the listing description - has it been read? Please do not assume things about the garment from just the photos, I pretty much have the same photos for a two piece dress, just upper part (a top) of that same named dress, and a bottom part (the skirt) of that same dress. What could be worse than you ordering a skirt alone and assuming you're getting both? 
2. POLICIES and FAQ - have those been read? They cover order cancellations, return and refund policy, claim submission and liability I will accept. Here they are: https://www.wardrobebydulcinea.com/policy they also cover color disclaimer (how you shouldn't pair my ivory to your another ivory item from another shop, for example), shipping type and duration, production timelines, alterations expectations, and more. So much valuable, yet quite condensed information there, and all of it is very important, if you read nothing else from the further list - listing description and this one are a must. 
3. ABOUT section of the shop - you would be directed there from the FAQ, actually: https://www.wardrobebydulcinea.com/about it covers 10 important things I would like my customers to know. Not important, but very valuable information especially with further resources being listed there. 
4. From the ABOUT section you would also be directed to my Facebook page Wardrobe by Dulcinea - https://www.facebook.com/wbdulcinea and my Instagram account @wardrobebydulcinea - both have hundreds of images of my brides, work in progress, straight from the studio images, different color examples, and more. Incredibly useful. 
5. You cannot feel the fabrics online, we get that. If you have a specific concern (does the glitter sheds? Is it stiff? Is it stretchy? Is it scratchy?) - I am probably more than available to answer, to film it, to photograph it additionally. I am very open and honest about everything and the last thing I want is to provide false expectations. If you had asked me "is this fabric stiff?" and I had answered "oh no no, it's the softest", and then once you received the item, it's actually stiff and scratchy - who is to blame? Absolutely, 100%, me. But can I guess that it's your concern without you asking me? No, I cannot. To me it can be a common sense that glitter sheds, as I have encountered many. I have already likely disclosed the features of the fabric in that listing description. What if I haven't, or you're not sure if I have? Please do ask, anytime. For example, I have a story highlight about what is Estelle bodysuit and how it works. I had filmed myself raising arms in Penelope top after a bride to be wasn't sure how they work - would she be able to do so? And if you ask for something else - I will make more videos or photos and I will show you everything that you would like to see, as long as I am able to do so (meaning - I still have the sample piece, it's not away for a styled shoot, etc). It really is that simple - just sharing your concerns and getting your questions answered. 
So these above are all the places you should stop by and gather information before jumping to ordering your wedding dress from Wardrobe by Dulcinea. If you do - I am truly certain you will be happy with the garment you receive and your expectations will be met. 
Now what if it's too late for that and you hadn't read the listing descriptions, about section, policies, FAQ, didn't visit my FB and IG, didn't ask the questions? I am not blaming you in the slightest. We live in a busy world, one doesn't always have the time, or even the desire to do extensive or any research before placing an order, even for a wedding dress. So let's say you hadn't and something isn't right with the order you have unpackaged...  
 Reasons it may be so, listed below: 
1. . How to prevent that or to at least minimize the risk of that happening? You probably guessed it, there is also a story highlight over on my IG @allthingsdulcinea that says "Measurements FAQ". There I advise to take a photo of every measurement taken, upload them to google drive and send me a link. I will go through all and ask you to retake everything I notice taken wrongly. It's not a 100% foul proof method - a certain angle of the photo may throw me off and you may still need minor alterations. That's disclosed in my policies - it's normal and it should be expected. We are just people that make garments without any fittings - who does that and guarantees "a fit like a glove?" Not us, for sure. 
Slightly off topic, but very relevant - I do let everyone know of all of my measurements suspicions and about 90% of my brides get asked to provide a photo of at least one measurement being taken :)  so we defininitely will not just make you a garment with measurement that seem off to us on paper, if that's the case - I promise I will bother you until we get them to realistic values. 
2. . Easy to check and easy to alter - we make all of our garments in a way where it's not hard to alter them for any local tailor. We make them so that they can be altered to fit like a glove without bank breaking expenses. 
. For example, you provided your correct waist and it was 78cm, but I typed it as 88cm and that's how I printed it on the paper along your project write up we're making you and put it on our project board. If that is the case - I will do everything in my power to fix it at no expense to you. I will take the garment back and fix it here, or I will pay for local alterations on your end. This specific sort of mistake has happened once, and it was the case where instead of the order of measurements being "waist/hips/length" a customer sent me "waist/length/hips" and I mixed up the length and hips, because I am just so very used to that order we ask for the measurements to be provided in. A genuine error on my part. What I did to fix it is I booked a DHL pick up at the customers home, taken it back, fixed it, returned it at my own expense, and of course in due time. And that is what I will do for you, should such a mistake happen. I have also previously forgot the specific requests of waistband widths changes, neckline shape alterations and "no train" requests. I had either fixed all of them or at least had offered so (but was politely declined because the customer chose to keep it as is instead). And that is absolutely something I will do - will take responsibility for what I had "not read" or "forgot" and will offer to fix it. There are many reasons why we always deliver early, earlier than any given or promised deadline - and one of them is for me to have the time to fix any potential mistake I could have done. 
HOW TO SUBMIT A CLAIM WHEN SOMETHING DOESN'T FIT TO A GREAT EXTENT:
Please contact us within a week post delivery for a solution. A statement "this garment piece doesn't fit" is unfortunately not a claim we can consider. If, for example, your skirt is too short for you, too wide, or too narrow, please kindly measure it, compare it to the measurements you gave us, and if a discrepancy is indeed found, please send us photos that show it (measuring tape around your body, measuring tape across the garment (we are happy to tell you how to measure the garment if you are not sure and need assistance). If we indeed are to blame for the ill fitting garment, beyond the extent of expected nips and tucks on the bodysuit or a tight fitting top we covered before, we will absolutely be of service of solving the problem. We will either pay for alterations on your end, send you a new garment or just a part of it (e.g, new sleeves), take it back to alter ourselves. 
4. . Posture alone is important for those, the arch of the back is important for those - those things can only be assessed during a real life fitting, as well as body asymmetry too. Sometimes brides send us their right and left measurements and they differ greatly - but actually we cannot address that. We will make the garment symmetrical, based on the larger side and the rest should be dealt with locally during a fitting. 
We are always happy to advise on where we think a nip or a tuck should occur on your garment, or how to fix a specific issue (a bunching back, for example), so please ask anytime, send photos and we will provide assistance before you head to the local tailor, so you have some idea on what you're asking for once you get there.
I hope this answers the question what we are and are not liable for in regards of fit and how to address it with us. In any case - we ask you to kindly have your expectations realistic - local alterations should overall be expected when a top is involved in the purchase. Please do account for an extra 200 USD or so for them when purchasing a two piece wedding dress online without a single fitting. 
: I have already previously written two Instagram posts about it, that I will post links to and copy past the text as well. 
About our white and ivory: https://www.instagram.com/p/CE1qbBJgOBl/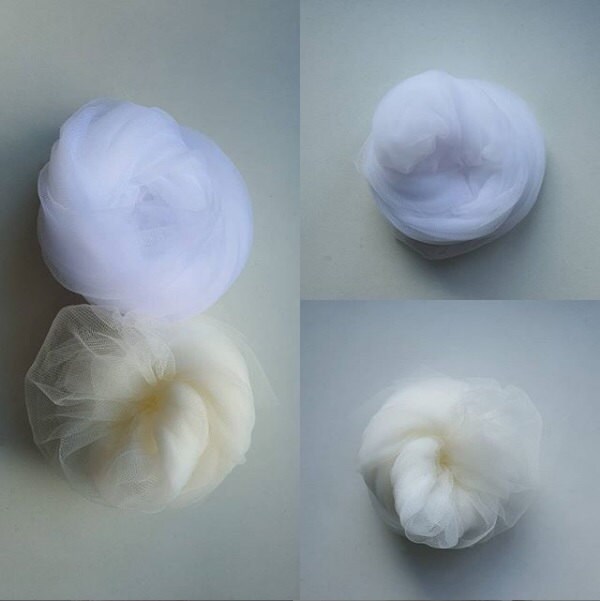 "A very important post, about colors and what affects them. This time in particular - about our white and our ivory shades. Our white is very bright, nearly blueish - will absolutely mismatch anything that is "soft white" or "off white" or of course "natural white". It's not a natural white, it's a pure, bright, stark white. Our ivory, on the other hand - is light in comparison to many other brands ivory we have encountered, and might in fact match "off white", or "natural white", and be too light near a deeper ivory made by someone else. And will definitely never match any sort of "deep ivory". We chose this shade of ivory to be our studio ivory simply because we like it and we stuck by it for years. It matches throughout our shop and that's something we can guarantee. Matching someone elses ivory - not at all a guarantee, they differ brand by brand and that's totally normal too. And now, lastly, the comparison - our white and ivory in the same photo makes white look whiter and ivory so much more yellow, than both of them taken separately. That is very important in bridal! You may very well (and should, in fact) perceive ivory as a standalone piece as White. It is a shade of white. However, you can see in this comparison image how far it actually is from white. Hope it was helpful, and choose your whites safely and carefully! When in doubt - always reach out! 🥰"
About other colors and what plays a part in their perception and appearance: https://www.instagram.com/p/B7x9ATAgoEu/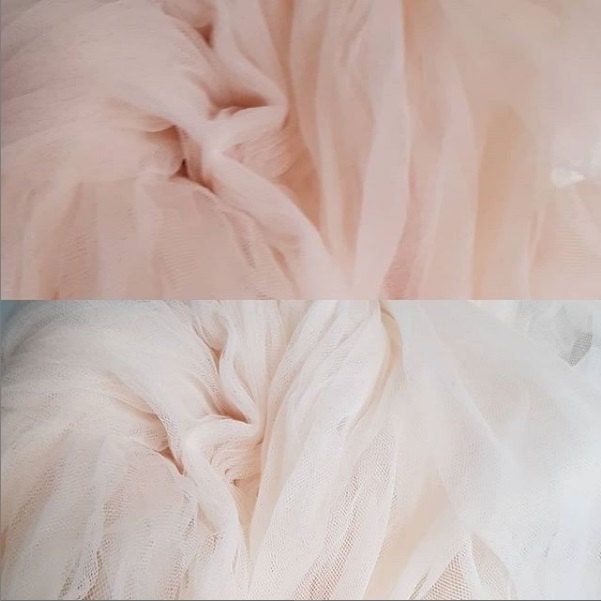 "Hi everyone! A very, very important post, if you are interested in working with me for your dress, please kindly take a few minutes and read: Lately I have been getting reviews (5 star, but the message is essentially negative) that say they have received a hand dyed garment from me and it's darker than expected. They say it's okay, because it's a hand dyed item, the deviation is expected, etc. Well, of course, if we were to gather all Maegans and all Noras into one place, you might notice slight tonal differences, but definitely not to an extent that some are actually darker than others, the differences would be as minor as making two same dresses from different factory made fabric rolls of the same color (they differ too). I have the recipes for my default colors down, and I compare the color to my own samples before being done with the dye job. Then why would some customers claim that their skirt is significantly darker than expected, one might ask? Well here's a photo of the same freshly dyed tulle piece. Bottom one is taken in one room, with the light off and just daylight through the window, another is taken in another room, still daylight through the windows (photos are taken seconds apart), but electric lights are on in that room. There is no answer as to which is the "real look" - it depends, for the most part, on the lighting conditions. Fabrics like sheer chiffon and completely transparent tulle absorb light and looks different in every setting. We photograph our pieces in a natural light studio, while customers evaluate their garments once they open the packages after work hours. The apparent difference then might even be bigger than in my photo. If you're worried, concerned, disappointed about the shade you received - please, reach out. I will advise on how to evaluate it in a different setting, what to communicate with a photographer (who each will photograph same skirt differently as well!), or, if in fact the garment happens to be in need of some sort of color correction - I'll consider offering a desirable solution. Let's communicate, let's talk. Thank you for reading, sincerely - Inge❤"
And one more about colors and final result in your wedding photos: https://www.instagram.com/p/CF35LROAFFj/
"Hi everyone! Sometimes I make these IMPORTANT posts, to help you bridal shop online and know what that entails, and here's a follow up on the colors and how differently they can appear. These are two images of my gorgeous bride Fran and her husband Jake, taken by extremely talented @juliadukephoto Fran is wearing our standard color (dusty powder blue to dusty blue) Nora skirt. This is same skirt, same bride, same day, same photographer. Yet it looks like two entirelly different skirts, due to the lighting, location and, I only assume (maybe Julia will comment on this) - the photo editing features used. And if you ask me "which is it that Nora really looks like", I'll say both. And I could find many more photo examples where it looks like neither one of these, but something else entirelly. Tulle is a fabric that absorbs light - doesn't reflect it, absorbs it, and that makes it look a different color in every lighting and surroundings situation ☺ stay aware and rock your tulle skirts! P.S. my own listing photos are edited to the perception of what our eyes see off camera. Sometimes camera settings can seriously alter shades, especially ones like red or yellow, and that's something we adjust in post production to make the color look like we see it in real life. This tip can also help you. You can tell the photographer how you want the skirt to appear in your wedding photos if that's something that's important to you 👌e.g: warm blue or cool blue."  
By the way (and a really important one), no matter whose fault an ill fitting or incorrect color garment happens to be, if by being so it is unwearable or unsuitable for the day, I have said nor will I ever say anything along the lines of "oh well, see, it's your own fault, sorry and take care". I have always offered something reasonable to help ensure my bride has something to wear on her big day. Before offering the solution (regardless of who is to blame, I will come up with one), I will always try and gather the information first. How it doesn't fit or doesn't look as expected and why. Please cooperate and send me those images I had kindly asked of you. I am not asking for them to "rub it in" and to show you, that you had indeed, perhaps measured incorrectly. I am asking for them to make sure my inner processes (quality control and assurance) are still working as intended and if it isn't - I really do need to know. I am also asking for them to be able to advise the best possible solution, for both, me and you. 
Thank you so much for reading, 
Inge, the designer behind Wardrobe by Dulcinea